American University Announces $3 Million Gift to Support New Athletics Facility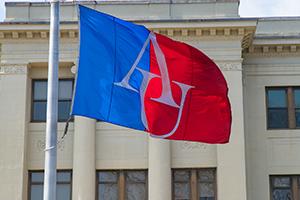 A $3 million gift in support of a new Center for Athletic Performance at American University will enhance the student experience and help student athletes and Patriot League champion teams reach new heights. AU Board of Trustees member Jack Cassell, a graduate of AU and former board chair, and his wife, Denise, made the gift to catalyze development of the state-of-the-art facility.
"This generous gift builds momentum as we embark on a new strategic plan at American University. We are grateful to Jack and Denise Cassell for their steadfast support and ongoing commitment to our community. They inspire us to excel, challenge us to fulfill our mission, and cheer our success," said AU President Sylvia M. Burwell.
Jack and Denise Cassell
The Cassell family has a long philanthropic history at AU and deep connections to both AU's athletics program and its students. Jack Cassell's father, Stafford Cassell, received his bachelor's degree from AU's College of Arts and Sciences, was an AU coach, athletic director, and vice president, and saw the AU community not simply as his workplace, but as a home for his family. Jack Cassell has continued this tradition, serving on the university's Board of Trustees since 2003, and as chairman from May 2015 to May 2019. Cassell has been a passionate AU Eagles fan, serving as chair of the AU Athletics Committee for six years. He and his wife are the proud parents of two AU graduates. In 2013, the university opened a new residence hall, named Cassell Hall, to honor $3 million in gifts from the family. This latest gift further builds on the Cassells' lifetime of contributions and will spur additional opportunities to support AU's community.
Since joining the Patriot League conference in 2001, AU's student athletes have garnered many achievements. In the academic arena, 59 players have been named Patriot League Scholar-Athletes of the Year. In the competition arena, the women's volleyball team, under the direction of seven-time Patriot League Coach of the Year Barry Goldberg, has won 15 of 18 conference titles; field hockey has qualified for the Patriot League Tournament in all 18 years, winning 10 conference titles under 21st-year head coach Steve Jennings; and the women's basketball program has won two Patriot League titles and advanced to two NCAA Tournaments under sixth-year head coach Megan Gebbia, while men's basketball has won three Patriot League titles in program history.
To learn more about the gift, please see a memo from President Sylvia M. Burwell.