Communications
American University Offers Three-Year PhD Program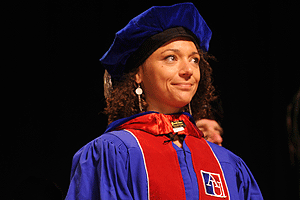 According to a report by the Commission on the Future of Graduate Education in the United States—about 2.5 million jobs will require a master's, doctoral, or advanced degree between 2008 and 2018.
But the same report contends that finding candidates with the right credentials may be a challenge as less than 25 percent of all doctoral students in the United States complete their degrees within five years and roughly 45 percent complete their degrees within seven years.
American University's School of Communication is offering a new, innovative PhD program in communication in which students will earn their doctoral degrees in three years.
The three-year PhD is rarity across the board in higher education and in communication programs, where completion generally takes anywhere from four to six years for students entering a program with a master's degree.
"Our program has been designed to address a national crisis in doctoral education, where students are taking many years to complete their dissertations," said Kathryn Montgomery, director of the new program. "We see our accelerated PhD program as a model that other universities may be able to follow. It has been designed to enable our students to move through the program more quickly."
The accelerated program operates on an 11-month learning and research structure that aside from formal coursework, includes participation in research groups, one-on-one mentoring with faculty, dedicated time for dissertation research and defense, and student collaboration and peer support.
The inaugural class will enroll five students, each of whom will already possess two-year master's degrees in communications or a related field. Each student will receive full tuition remission and a stipend to be augmented by funded fellowship opportunities.
Drawing from the School of Communication's three divisions, journalism, public communication, and film and media arts, the interdisciplinary curriculum will address the intersections of media, technology, and democracy.
"The program is dedicated to educating the next generation of communication scholars, professors, leaders, and practitioners for the digital age," said Larry Kirkman, dean of AU's School of Communication. "It will foster scholarship that builds new theory and knowledge and enhances the ability of institutions, social groups, and professionals to apply that knowledge to undertake pressing political and social challenges."


High Demand Inside and Outside Academia
While graduates will be qualified for tenure-track university faculty positions in communications-related fields (which have experienced annual enrollment increases at the undergraduate, master's, and doctoral levels since 2000), they will also have the advanced qualifications to work in public policy, research, communication, marketing, and production positions at media, nonprofit, advocacy, government, and industry organizations.
"This is not an 'ivory tower' approach to PhD education," Montgomery said. "Many PhD programs have not recognized the realities of the marketplace—that graduates don't necessarily remain in academia. Our program not only recognizes this reality, but incorporates it into the curriculum so that students are prepared for careers inside and outside higher education."
While developing the curriculum, Montgomery and her team identified a large number of management and research positions outside academia for which graduates would be well-qualified. The School of Communication is working with its numerous partners (organizations such as Gannett/USA Today, the Freedom Forum/Newseum, the Center for Public Integrity, the National Academies, the Berkman Institute for Internet & Society, and others) on establishing paid professional fellowships, joint research projects, and other initiatives to further enhance students' opportunities for post-graduate employment.
"Communication encompasses everything today—health care, politics and policy, education, business, you name it—nothing is untouched thanks to digital technologies," Montgomery said. "Graduates of our program will have the skills to harness the power of contemporary communication to address the most pressing problems facing our world."


Other "Enterprising" Programs
The PhD program is not AU's only new, innovative program. The School of International Service also recently launched the new graduate Social Enterprise Program. The program gives special attention to enterprises dealing with global issues and is the first program of its kind offered by a member of the Association of Professional Schools of International Affairs.
Through the program, which focuses more on the "doing of social enterprise" than its study as a subject, students will acquire the knowledge, skills, and mindset to launch social ventures or become leaders at existing social enterprises.
Robert Egger, founder of DC Central Kitchen, and Nina Smith, executive director of GoodWeave, are the first members of a group of social entrepreneurs who will help guide the program's development.
In addition, Professor Dan Jacobs, environmental attorney, was recently appointed program director for the Kogod School of Business's new Master of Science in Sustainability Management, which will launch in Fall 2012.