On Campus
Anderson Cooper Accepts 2013 Wonk of the Year Award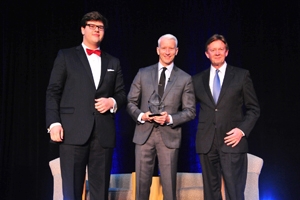 Anderson Cooper spoke in front of a particularly enthusiastic crowd on Saturday night, October 19th, at American University's Bender Arena. That's because Cooper, an esteemed CNN journalist and anchor, exemplifies values AU students admire. He's smart, passionate, focused, and engaged, and AU and the Kennedy Political Union (KPU) have honored him as Wonk of the Year for 2013.
A Memorable Night
American University President Neil Kerwin opened the night with a warm introduction. "Our guest tonight embodies the characteristics we strongly admire here at American," he said. "Whether keeping them honest in Washington, or reporting from some of the most dangerous places on this planet, Anderson Cooper uses intellect and inquiry to further our understanding of the issues that matter most."
Chandler Thornton, director of KPU, subsequently gave introductory remarks. "I can't think of anyone better to honor with this award tonight than Anderson Cooper," he said. Soon after, the crowd was treated to a big surprise. Fellow CNN anchor Wolf Blitzer greeted the crowd by video, in the form of a "breaking news" alert. "Anderson, as all of you know, is a real, real wonk. He knows wonkish details of everything!" Blitzer said.
Anticipation had been building for Cooper's appearance, and the seasoned reporter did not disappoint. He began his speech with a good-hearted joke. "I realize why there are a lot of students here, because you're all trying to impress your parents that this is what you do every Saturday night in Washington, D.C.," he said, to laughter.
He spoke about his early years after college. "I graduated in 1989, so I had focused all my studies at Yale on communism, because I kind of thought that was going to be around for a while," he recalled. When the Berlin Wall fell, he suddenly didn't know which direction to take with his life. He had a hard time getting an entry-level job, so he decided to create his own opportunity. "I actually made a fake press pass, and I borrowed a camera," he said, "and I decided to start going to wars by myself."
Cooper described his dedication to telling the stories of people living in war-torn countries. He even relates to this on a personal level. Cooper's brother committed suicide, and he empathizes with other people's suffering. "I wanted to be around other people who spoke the language of loss. I found when I went to wars, when I went to places where terrible things were happening, life felt very real there, and very precious," he explained. "And I found the more I was away, the harder it was in fact to return home."
Throughout the night, Cooper expressed a desire to give a voice to the voiceless. "There's great value in learning the names of people whose lives are lost, and remembering them and honoring them," he said. Later on, he told an anecdote about his coverage of the Sandy Hook shooting massacre. He doesn't believe in using the name of the school shooter, but he hopes to preserve the memory of one of the victims, Grace McDonnell.
After his opening remarks, he took questions from students in a forum moderated by American University journalism professor Jane Hall. At one point, Cooper said he didn't care for opinion journalism. "I'm interested in facts and information." Cooper also discussed the value of holding public officials accountable. "There's nothing more satisfying in an interview when you're armed with facts, and you know somebody has stated something that is not a fact," he said. "All you have to do is stick to that one question, and watch them kind of dance around it."
The Students Respond
Afterward, several students gave Cooper rave reviews. "He's such an eloquent speaker. We see him on TV all the time, but having him be this close to us is just amazing," said Allison August, a sophomore. She's an international business major, with a minor in Chinese. And, like Cooper, August hopes to travel the world. Dina Gayanova, also a sophomore, characterized Cooper as personable and genuine. "I like how he said that you have to just be happy and content with what you're doing. And success is where you are right now, and not necessarily the final destination."
Reporting Live, Everywhere
Cooper has extensively covered the conflicts in Egypt and Syria, the debt ceiling crisis, the NSA surveillance programs, and the Boston Marathon bombings. He garnered widespread praise for his emotional, hard-hitting reporting on Hurricane Katrina, which helped CNN win a Peabody Award. He's won numerous Emmy Awards, including two for his coverage of the 2010 earthquake in Haiti. Cooper is also a regular correspondent for CBS's 60 Minutes. The son of prominent fashion designer Gloria Vanderbilt, he earned his bachelor's degree in political science from Yale University and studied Vietnamese at the University of Hanoi.
When asked by a student to name his greatest mentor, Cooper mentioned pioneering African-American photographer and filmmaker Gordon Parks. "He was somebody I always looked up to from the time I was a little kid," he said. "And he was so committed to social justice and to telling people's stories."
Wonk Presence
The event was hosted by KPU, a student organization created in 1968. KPU's founding was inspired in part by President John F. Kennedy's seminal 1963 American University commencement speech calling for a nuclear test ban treaty. The evening's festivities were part of AU's All-American Weekend, with parents and alumni in attendance alongside students.
Launched in 2010, the wonk campaign has a strong presence on campus and throughout Washington, D.C. The wonk label adorns t-shirts, admissions tours and buses, and it's the focus of advertising in Metro stations, Nationals Park, and The Washington Post. In 2012, the inaugural Wonk of the Year award was presented to former President Bill Clinton.
In addition, the evening generated plenty of buzz outside of campus: On Saturday night, @AmericanU, #kpu, #kpuanderson, and #wonk were all trending on Twitter in D.C.