Government & Politics
Cheney Visits AU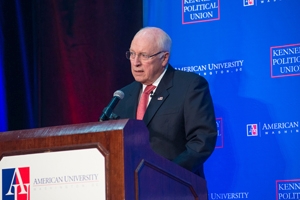 Few people have amassed as much high-level government experience as Dick Cheney. Before serving as President George W. Bush's vice president and trusted adviser, Cheney was White House chief of staff to President Gerald Ford, a member of Congress representing Wyoming, and secretary of Defense under President George H.W. Bush. So the battle-tested Cheney had plenty of knowledge to impart to students at a Kennedy Political Union (KPU) event on Thursday, March 27th at American University.
Controversy surrounding the Iraq War and post-9/11 counterterrorism policy has made Cheney a lightning rod for criticism, and there were protests both inside and outside Bender Arena on Thursday night. But Cheney is also revered by many conservatives, and a hospitable AU crowd of approximately 750 attentively listened to his remarks on Russia, Iran, gay rights, and other issues.
Welcoming Cheney
Though KPU has hosted politicians who would later become vice presidents—Joe Biden while he was still in the Senate, for example—Cheney's visit marks the first time a former vice president has appeared at one of the political union's events.
"Vice President Cheney has a long and thorough résumé when it comes to Washington. From his time as House minority whip to serving under several presidents, he has seen it all," said KPU Director Chandler Thornton. "While one may not agree with everything he has done, he has been extremely influential in shaping the policy of the United States domestically and abroad for decades."
Founded in 1968, KPU is the non-partisan, student-run lecture series on campus. The Cheney event was cosponsored by the American University College Republicans and the Young America's Foundation.
Conservative students were clearly excited to have Cheney at AU. Lucy Lohrmann was just seven years old at the time of the September 11, 2001 terrorist attacks. She's originally from Hasbrouck Heights in Bergen County, New Jersey, only about 15 minutes away from New York City and Ground Zero.
"I was a young girl feeling unsafe in this country that I have grown to love," she said. "I feel—not just as a Republican, but also as an American—that the Bush administration kept us safe during such a horrible, scary, uncertain time."
Fast forward to 2014, and Lohrmann is an AU sophomore and president of the College Republicans. She still appreciates how Cheney handled the terrorist threat, and she was enthusiastic about him coming to campus.
In response to some anti-Cheney sentiment, Lohrmann discusses the value of diverse viewpoints.
"I think [AU] strives to bring about diversity, not just in a racial sense or an ethnic sense, but also a diversity of thought, diversity of political affiliation. Obviously, college campuses just by their nature are more liberal, and that's totally fine. But I think it's very important to also have that diversity, and to bring somebody like Dick Cheney here," she said.
In His Own Words
In his introductory statement, Cheney wasted no time confronting the contentious issue of NSA surveillance.
"There are all these allegations and charges that the NSA is deeply involved in intercepting and violating people's civil rights. That's not true," said Cheney. He said he worries that current political considerations could dismantle vital NSA work. If the NSA surveillance program had been in place before 9/11, he opined that "we might well have been able to intercept the hijackers."
The event was moderated by Richard Benedetto, a former White House correspondent for USA Today and now an adjunct professor in the School of Public Affairs and the School of Communication. Benedetto read questions that students submitted online.
Early on, Benedetto asked about Cheney's health. The former vice president reflected on a long struggle that included his first heart attack at age 37 and his heart transplant two years ago. He mentioned how scientific advances have significantly reduced the incidents of death from heart disease. "It's a great story. It's not my story. It's a story of technology and the remarkable progress that's been made with modern medicine."
To some laughter, Benedetto said the students have an impression of Cheney as a "rather dark personality."
"Especially after 9/11, I had to spend a lot of time on highly classified material and programs. That was the nature of my job and my responsibility. So there wasn't anything I could say about what I was doing, anyway," Cheney explained in response. "I think for all of those reasons I developed this image—part of which was true. I was tough and hard-nosed…I wasn't running for anything. I was trying to do the job the president had given me."
Students submitted a number of questions about foreign policy. Cheney warned that if Iran goes nuclear, other nations in the Middle East will follow suit. Regarding the Crimean crisis involving Russia and Ukraine, he argued that the U.S. could take military measures that do not include putting troops on the ground.
There were some lighter moments, and Cheney even fielded a question about trout fishing. His all-time largest catch? A 20-plus pound Steelhead.
At the end of the evening, he addressed the AU students directly and encouraged them to consider public service. "I came to town as an intern to work on Capitol Hill," he recalled. "And it worked out to be a pretty good deal for me. And I want to encourage those of you who are here tonight at American University. It's enormously important that we get good people involved, whatever your beliefs are or your political faith."
Student Reactions
"I thought the questions that they asked were good," said freshman Sophie Yager. "And for the most part, I think he was truthful in how he answered."
Freshman Alex Falco also appreciated Cheney's candor. "He was very frank. And he did make a few very bold statements, like saying the current level of NSA surveillance could have stopped 9/11. That's just a very bold statement. But overall it was wonderful to hear him speak. Everything was very well put together. And I obviously have very differing opinions from him, but I always enjoy hearing different views."