On Campus
Laura Bush Honored as the 2015 Wonk of the Year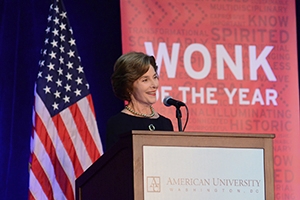 Laura Bush was a popular and dedicated first lady, showing a commitment to education, global health, and human rights. And she's shown no signs of slowing down since leaving the White House. As chair of the Women's Initiative at the George W. Bush Institute in Dallas, she's focused on female empowerment in Afghanistan, Africa, and the Middle East. American University has recognized her efforts to enact meaningful change, and on Wednesday night Bush accepted the 2015 Wonk of the Year award. The event was held in Bender Arena and presented by the AUSG Kennedy Political Union.
Addressing the AU Community
After introductory remarks by AU President Neil Kerwin and KPU Director Tyler Bowders, Bush took the stage. She addressed the AU community with a thoughtful, heartfelt speech.
Bush talked about the importance of family. Her father-in-law, former President George H.W. Bush, celebrated his 90th birthday by skydiving, while mother-in-law Barbara still walks her dogs on the beach every day during the summer. They "are both happy and in good spirits. George and I believe that they're showing us the way to age with grace," she said. And she mentioned the newest member of the family, granddaughter Mila Hager.
She also showed a humorous and humble side, bringing out the "Laura Bush bobblehead doll" that a friend found for her in a gift shop. "It was on the clearance shelf," she joked. And she then recounted how the media pressed her to define herself early in the Bush presidency. The question emerged: Would you rather be Hillary Clinton or Barbara Bush? "My answer was always the same. 'I think I'll just be Laura Bush,'" she said.
Bush, who co-founded the National Book Festival, spoke eloquently about one of her lifelong passions. "I believe that every child in America should learn to read. And I believe that literacy is an essential foundation for democracy. And from my own experience, as a reader and librarian, I know that books have the power not just to move people as individuals, but to shape our journey as a nation," she said, noting the historical significance of Uncle Tom's Cabin and To Kill a Mockingbird.
She subsequently drew on her early experiences as a school teacher in the inner-city. "I wasn't prepared for the poverty I saw there," she recalled. "I wanted to help those children so badly—to somehow reach into their lives and make a difference. But it was an uphill fight."
Bush then provided a moving anecdote. One day while taking students to an amusement park in Houston, they arrived at a little boy's house to pick him up. But he was still in his underwear, and his mother didn't come to the door to give them permission to take him. "We had no choice but to leave him there. All I could do was hug him goodbye with an extra squeeze," she remembered.
And she still wonders what may have happened to that boy. "Did he manage to escape that dilapidated house in Houston with the mother who wouldn't come to the door? Did he find another teacher who cared for him?" she asked, ruminating about all of the possible outcomes of his life. "Never forget that little boy. Never forget that one friendly smile, one reading lesson, one consoling touch, one check written, or one busy hour given over to someone who needs you—these are the things that can make all the difference in the world."
Fielding Questions
Anita McBride, an executive-in-residence at AU's School of Public Affairs and a former chief of staff to Laura Bush in the White House, moderated a question-and-answer session.
In response to a question from an AU alum, Bush discussed expanded opportunities for women in Afghanistan since the 9/11 attacks. "Many, many Afghan girls are in school now. And virtually no Afghan girls were in school in 2001," she said.
One student asked how advances in women's rights can be derived from empowering first ladies around the world. She pointed to work done by the Bush Institute's First Ladies Initiative for Africa and efforts to promote testing and treatment for cervical cancer there.
Some AU students sought suggestions about navigating their college years, and Bush offered the same advice she's given to her daughters. "Take advantage of all the many opportunities you have as a college student here at American University, and don't let anything great pass you up."
A Real Conversation
Several students interviewed were impressed with Bush's presentation. "I loved learning about the different initiatives from the Bush Institute," said freshman Sarah Mallon. "She's an amazing role model for women everywhere, and for me personally."
Sophomore Jennifer Reyes Cuevas is a political science major with an interest in education policy. "I really liked how she said the empowerment of women in other countries comes through education," she said. "When she spoke about volunteering with children, it kind of made me think I should really go out and volunteer."
"I like how she put a lot of humor into it. It wasn't just, 'Oh, here are my accomplishments.' It was like talking to a real person," said Jamie Nunziata, a sophomore and vice president of AU College Republicans. "It was really like a conversation."