On Campus
AU Announces 2016 Commencement Speakers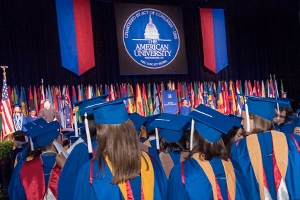 Note: Students, alumni friends, and family who cannot attend the ceremonies will be able to watch a live stream of each ceremony on AU's commencement website. The live stream will be active about an hour prior to each ceremony. Share your commencement experiences on social media with the hashtag #2016AUGrad.
American University will hold to tradition and host its 131st commencement ceremonies on Mother's Day weekend on campus in Bender Arena with an impressive group of commencement speakers to offer advice and congratulations to roughly 3,500 graduates. AU's 2016 commencement speakers demonstrate compassion, integrity and unwavering commitment in their work and to enhancing lives across the nation. Individual school ceremonies will be held on May 7 and 8, followed by the law school ceremony on May 22.
María Elena Salinas, one of the most recognized and influential journalists in the country will address the graduates of the School of Communication, 9 a.m., Saturday, May 7. Salinas has been described as the "Voice of Hispanic America" by the New York Times. She is the co-anchor of Noticiero Univision, the most watched newscast by U.S. Hispanics and co-hosts Univision's primetime newsmagazine Aquí y Ahora (Here and Now). Her reports deliver news and information that empowers millions of viewers across the Americas. Salinas has covered the major stories of the day–-not only witnessing history, but making history as a trail-blazing journalist. She has been recognized with the National Academy of Television Arts and Sciences' Lifetime Achievement Award, the Peabody Award, two Gracie Awards, seven Emmys and a Walter Cronkite Award among many other prestigious journalism awards. Most recently she became the recipient of The National Association for Multi-ethnicity in Communications (NAMIC) Humanitarian Achievement Award. Salinas will receive an honorary Doctor of Humane Letters degree.
Donna Harris, co-founder and co-CEO of 1776, a global incubator, will address the graduates of the Kogod School of Business, 2 p.m., Saturday, May 7. Harris is a four-time entrepreneur, and frequent speaker on entrepreneurship, startup community building, and economic development. She is also an active angel investor as a co-founder of K Street Capital. Prior to 1776, Harris served as the managing director at the Startup America Partnership, where she focused on accelerating the formation of vibrant entrepreneurial ecosystems across the United States. Prior to joining Startup America, she was vice chair of Interpoint Group, a government markets, government relations, and public affairs strategy and management firm. Harris will receive an honorary Doctor of Laws degree.
Raymond G. Chambers, Assistant Secretary General of the United Nations and United Nations Special Envoy for Financing the Health Millennium Development Goals and For Malaria (United States), will address the graduates of the School of International Service, 7 p.m., Saturday, May 7. Chambers is a philanthropist and humanitarian who has directed most of his efforts towards at-risk youth. He is the founding chairman of the Points of Light Foundation and co-founder, with Colin Powell, of America's Promise--The Alliance for Youth. He also co-founded the National Mentoring Partnership and served as chairman of The Millennium Promise Alliance. Chambers is the founder and co-chairman of Malaria No More, with Peter Chernin, president of News Corporation. He is taking a leave of absence from that role to focus on his appointment as the United Nations Secretary-General's Special Envoy for Malaria. Chambers has been instrumental in the revitalization of the City of Newark, New Jersey (his hometown), and was the founding chairman of the New Jersey Performing Arts Center. Chambers will receive an honorary Doctor of International Affairs degree.
John King, Inside Politics anchor and chief national correspondent at CNN, will address the graduates of the School of Public Affairs, 10 a.m., Sunday, May 8. King is an award-winning journalist who has covered the past seven presidential elections and reported from all 50 states and more than 70 countries. In his role as chief national correspondent, based in Washington, D.C., King is instrumental in CNN's daily reporting and breaking news coverage. Most recently, King was a prominent part of the network's 2014 Election Night in America coverage, offering insight and analysis throughout the evening. As part of CNN's America's Choice 2012 election coverage, King reported from the trail and moderated three presidential primary debates. His analysis and use of the "Magic Wall" to visually bring the results and their impact to viewers was an integral part of the network's Emmy award-winning 2012 election night coverage. King will receive an honorary Doctor of Laws degree.
Deborah F. Rutter, president of the John F. Kennedy Center for the Performing Arts, will address the graduates of the College of Arts and Sciences, 3 p.m., Sunday, May 8. Known for emphasizing collaboration, innovation, and community engagement, Rutter is considered one of the most influential arts administrators in the nation. Rutter is the artistic and administrative director of the world's busiest performing arts center, managing all facets of the facility, including expansive theater, contemporary dance, ballet, chamber music, and jazz seasons as well as its affiliates the National Symphony Orchestra and Washington National Opera. The Center encompasses one of the nation's largest arts education programs, reaching millions of people of all ages each year, and includes Very Special Arts (VSA), the international organization on arts and disability. Rutter became president of the Kennedy Center on September 1, 2014. She is the third person to serve in this capacity, following Michael M. Kaiser (2001-2014) and Lawrence Wilker (1991-2001). Rutter will receive an honorary Doctor of Fine Arts degree.
The Honorable Loretta E. Lynch, 83rd Attorney General of the United States, will address graduates of the Washington College of Law, 1 p.m., Sunday, May 22. Lynch was sworn in as the 83rd Attorney General of the United States by Vice President Joe Biden on April 27, 2015. She is the first African-American woman and only the second woman to hold the position of Attorney General of the United States. Lynch received her AB, cum laude, from Harvard College in 1981, and her JD from Harvard Law School in 1984. In 1990, after a period in private practice, she joined the United States Attorney's Office for the Eastern District of New York, located in Brooklyn, New York. There, she forged an impressive career prosecuting cases involving narcotics, violent crimes, public corruption, and civil rights. For a law school founded by women more than 120 years ago, with a recent entering class profile of more than 60 percent women, Attorney General Lynch is the perfect role model for WCL's graduates. Lynch will receive an honorary Doctor of Laws degree.
In addition to conferring honorary degrees, American University President Neil Kerwin will present the President's Award, the highest award for AU undergraduates, to a graduating senior who has displayed a longstanding commitment to building community and promoting AU's ideals of academic achievement, integrity, selflessness, leadership, and service.
More information on the speakers is available on AU's commencement website.