AU Sine Institute of Policy and Politics Announces Inaugural Class of Fellows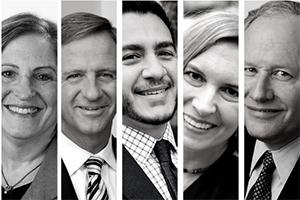 The Sine Institute of Policy & Politics at American University today announced its inaugural class of fellows:
Abdul El-Sayed, former executive director of the Detroit Health Department and former candidate for governor of Michigan
Bill Haslam, outgoing governor of Tennessee
William Kristol, political analyst and founder of the Weekly Standard
Ruth Marcus, political commentator and columnist for the Washington Post
Karen Zacarías, playwright, founder of Young Playwrights' Theater and Latinx Theater Commons
The Sine Institute will also welcome, as a distinguished lecturer, Wes Bush, Chairman and Former CEO of the Northrop Grumman Corporation.
American University established the Sine Institute in September 2018 as an incubator for policy innovation and a convener of the best minds in the public, private, and nonprofit sectors and journalism. It is committed to bringing together experts and top scholars with students to work on the nation's most pressing challenges in a way that promotes common ground and nonpartisan policy solutions. 
The Sine Institute Fellows will lead discussions and study sessions with students. Fellows will convene and participate in campus-wide events, collaborating with experts, faculty, and students to uncover new ways to inform cross-sectoral policy solutions. 
"The inaugural class of Sine Institute Fellows speaks to the depth and breadth of expertise that the Sine Institute was launched to convene," said Sylvia M. Burwell, American University president. "I am overwhelmingly excited to see what conversations and discussions this first class of fellows will spark."
"We are thrilled to leverage the university's intersections across sectors to convene powerful conversations here in the epicenter of policy and politics," said Vicky Wilkins, dean of the School of Public Affairs at American University.
The Sine Institute is a university-wide initiative made possible through a milestone gift of $10 million from AU alumnus, trustee, and entrepreneur Jeff Sine, SIS/BA '76, and Samira Sine, an advocate for women and children and a seasoned journalist.  
In its 125-year history, American University has established a reputation for producing changemakers focused on the challenges of a changing world. AU has garnered recognition for global education, public service, experiential learning, and politically active and diverse students, as well as academic and research expertise in a wide range of areas, including business and communication, political science and policy, governance, law, and diplomacy. 
Established in 1934, AU's School of Public Affairs, home of the Sine Institute, is ranked third in the US and first in the DC area for public affairs research impact. Its faculty members are leading scholars in public policy, public administration, political science, criminology, and other complex fields.