New Madison Prize Honors
Senators Lamar Alexander and Patty Murray Inaugural Award Recognizes Lawmakers for Legislative Compromise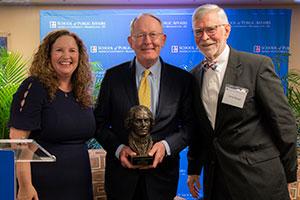 U.S. Senators Lamar Alexander (R-TN) and Patty Murray (D-WA) have been named as the inaugural recipients of the Madison Prize for Constitutional Excellence by American University School of Public Affairs. The new award recognizes lawmakers who strive for legislative compromise in the same spirit outlined by James Madison in Federalist 10. In an era of extreme polarization in American politics, the Madison Prize is an effort to draw attention to legislators who work across the aisle to resolve difficult issues.
"Senator Murray and Senator Alexander represent the highest service to our nation and the people they serve. With a focus on the substantive issues of the utmost national interest centered on getting things done, they work very hard to find areas of common ground that serve the people's interest above all else," said American University President Sylvia M. Burwell. "We're thankful for the example they set both for the leaders of tomorrow in our classrooms today, and the nation as a whole."The Madison Prize, which was endowed by former Rep. David Skaggs (D-Colo.) and his wife Laura Skaggs, will be awarded after each biennial Congress to recognize one Member (U.S. Representative or Senator) from each major political party. 
"We're all familiar with the core principles of checks and balances and separation of powers. A brilliant political construct," said former Rep. David Skaggs (D-CO) at the awards event. "A constitutional architecture that requires its actors to compromise in order to get anything done. So, we want to hold up senators Alexander and Murray as exemplars of what I think of as the sacred art of compromise. "
Senators Murray and Alexander's work together exemplifies how Madison envisioned the responsibility of elected representatives to respect the public interest and seek greater good. That approach was central to their collaborative efforts resulting in passage of the 21st Century Cures Act and the SUPPORT Act, legislation that took steps to tackle hard-to-treat diseases, confront the opioid epidemic, strengthen mental health care, and advance medical innovation. It also informed their efforts to strengthen the individual market and reduce premiums for those insured under the Affordable Care Act. In 2018, the Senators worked together to pass a bill through the Senate to simplify both the student financial aid application process and the process of loan repayment, known as the Faster Access to Federal Student Aid (FAFSA) Act.
"Compromise isn't about demanding exactly the bill you would write yourself, it's about working with others, listening to their ideas, and finding common ground where you can actually move forward together," said Senator Murray. "That's how we get things done in Washington state, and it's the approach I've worked to bring to Washington, D.C. as well. I'm pleased to say, I've been able to work with my colleagues across the aisle to pass bipartisan legislation to address pressing issues like the opioid epidemic and career and technical education – and I'm hopeful we can continue that progress on issues like skyrocketing drug prices."
"I'm grateful to receive this award with Patty Murray, whom I enjoy working with in the Senate's Health, Education, Labor and Pensions Committee," said Senator Alexander. "We have worked together to improve our schools by fixing No Child Left Behind, to speed up approval of new medicines and devices by modernizing the Food and Drug Administration, securing more funding for the National Institutes of Health in our 21st Century Cures Act, and helping states combat the opioid crisis. This year, I hope we can reauthorize the Higher Education Act and work together on ways to reduce health care costs."
The School of Public Affairs manages the Madison Prize and its selection process. Selection Committee members include: Gina Adams, senior vice president of government affairs, FedEx Corporation; Sarah Binder, professor, George Washington University; former Rep. Mickey Edwards (R-OK); Ron Elving, SPA executive-in-residence; former Rep. Connie Morella (R-MD); Jim Thurber, SPA professor; and SPA Dean Vicky Wilkins (ex officio).
"At the School of Public Affairs, it is in our DNA to promote legislative compromise, bipartisanship, and civil discourse," said Vicky Wilkins, Dean, AU School of Public Affairs. "These are all at the core of our democracy, and necessary elements for our students and partners to embrace."
The inaugural Madison Prize was presented to the senators during a special event at American University, featuring a conversation between Sen. Alexander and AU President Sylvia M. Burwell.  
To learn more about the prize, the nomination process, the selection committee, and other ways to get involved, please visit: www.american.edu/spa/madison