New American University Report Underscores a Critical Need for a National Cybersecurity Director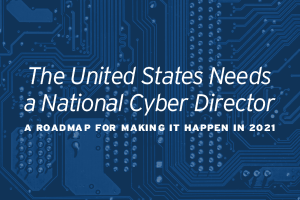 As cyber threats from domestic and foreign entities increase rapidly in sophistication and frequency, a new report by American University experts urges the creation of a senior position responsible for directly advising the U.S. President on matters of cybersecurity and emergent technologies, and coordinating the nation's cyber strategy from the White House. The report recommends that the ground work to create a National Cybersecurity Director (NCD) be completed prior to the end of the year, and that new NCD leader be in place no later than the first 100 days of the next administration, whether it is Biden or a second term Trump Administration.
"The conversation about the need for an NCD is not new but also is not advancing as needed as the Senate and other entities continue to call for more study of this issue, " said Sasha O'Connell, co-author and Executive in Residence, School of Public Affairs. "Our team took on the development of this report to help kick start the process of creating an NCD by summarizing the current thinking on the issue and providing concise recommendations and implementation priorities."
The report's recommendations largely align with the National Defense Authorization Act for Fiscal Year 2021 that was passed by the U.S. House of Representatives on July 21, 2020, with several critical additions. According to the authors of the report, the NCD should be required to possess hands-on experience in national security, a technical or engineering background, and a record of successful leadership and stakeholder engagement in both the government and the private sector.
The authors of the report also outline the most effective structure for the NCD office and spell out the relationship between the NCD and the rest of the Executive Branch. They also refine the NCD's role in both offensive and defensive cyber operations -- an area that has been the subject of a debate in the public and private sectors. 
"We see the upcoming election as an opportunity for the next Administration, whether it is Biden or a second term Trump Administration, to take a fresh look at governmental reforms to address the increasing complexity of cyber policy and prevalence of the cyber threat," said Kiran Raj, report co-author and adjunct professor at American University's School of Public Affairs . "We believe that adopting these recommendations will strengthen our cybersecurity capabilities and enhance the government's ability to protect and secure America from cyber threats. The time to act is now."