American University Class of 2021 Celebrated and Urged to Continue as Changemakers and Find Their Life's Mission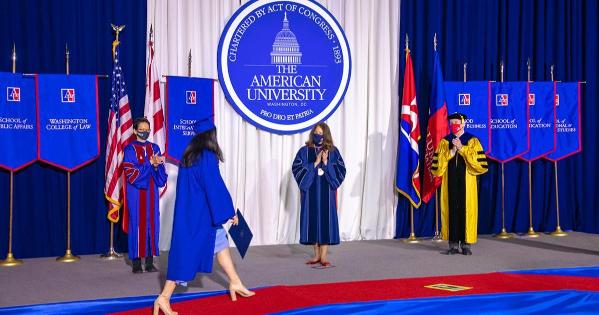 Featuring the first in-person ceremonial activities on-campus since the COVID-19 pandemic and a virtual address by innovator and former U.S. Chief Technology Officer Todd Park, American University honored nearly 2,900 graduates across its eight schools. The university's 141st Commencement featured in-person processions for 2021 graduates to cross the Bender Arena stage on May 8th and 9th.
Park, co-founder and executive chairman of Devoted Health, told the graduates that amid the global fight to emerge from the pandemic, protect democracy, and overcome grave social injustices, they are facing a "pivotal moment, one of both great peril and great possibility." He urged the class of 2021 to discover and dedicate themselves to a mission that inspires them and is of service to others. "It is no ordinary time, on so many fronts, from the health of our people to the health of our planet," said Park. "It is a time that calls for gifted and motivated changemakers to make a true difference."
During the weekend's in-person processions, graduates were welcomed by AU President Sylvia M. Burwell, AU deans, and administrators. In announcing the in-person processions last month, Burwell told the community, "Our graduates have worked so hard and achieved so much; we are glad they can have this special moment that is so well-deserved."
President Burwell, in her virtual remarks to all graduates, commended the class of 2021 for navigating unprecedented uncertainty and challenges, noting they are well-prepared to excel in an ever-changing world. "Your class is like tempered steel in the handling and acceptance of the unexpected," said Burwell. "You push forward with tenacity and drive to create an impact and serve others. And as our next generation of leaders, you will help us all to come out stronger and better than before."
Park, who was awarded an honorary Doctor of Public Service degree, built on the theme that AU graduates are positioned to make a difference in the world, "With the profound gift of your American University education, with all of the tools, knowledge and skills you have gained through your hard work, you are well-equipped to embark upon your changemaking journey."
As co-founder and executive chairman at Devoted Health, a company focused on dramatically improving health care for seniors by caring for everyone like they are family, Park is developing new approaches to today's health care challenges. During his service as the U.S. Chief Technology Officer, he was instrumental in the successful turnaround of the Affordable Care Act insurance marketplace and in creating the Presidential Innovation Fellows program to bring top innovators to the government to address specific challenges.
As part of the virtual event, deans from the university's eight schools and colleges as well as prominent alumni – including AU Board of Trustees Chair Marc Duber ('81), AU Board of Trustee Vice Chair Gina Adams ('80), AU Alumni Association President Jonathan Mathis ('04), Maryland First Lady Yumi Hogan ('10), Maryland State Delegate Lily Qi ('01) and CBS White House Correspondent Ed O'Keefe ('05) – expressed well wishes and shared words of advice.
American University's class of 2020, which was honored with a virtual commencement last year, will be welcomed back for in-person processions on May 15th and 16th. On May 23rd, Washington College of Law will hold its in-person processions for the classes of 2020 and 2021, as well as a virtual 2021 celebration that will feature an address by Maryland Congressman and WCL Professor Emeritus Jamie Raskin.   
For video and photos of AU's graduation and the online commencement ceremony, please click here.