On Campus
I'm an AU Contact Tracer. Here are 5 things I want our community to know.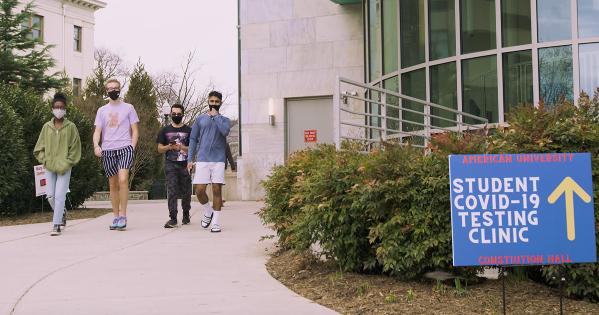 Leanne Wright began contact tracing on campus in January 2021.  
It was a new process for the university and Wright, the associate director of environmental health and safety. Vaccines were not yet widely available, and winter infection rates were high. Although the country is in a different place than we were back then, contact tracing still plays an integral role in AU's pandemic response. Along with vaccines, masking, and updated indoor airflow systems, contact tracing remains part of the university's comprehensive approach to reopening safely.  
Successful contact tracing requires being able to rapidly identify cases and notify close contacts before they spread the virus– which is why the university has its internal team to conduct investigations. The AU contact tracing team, officially called the Affiliate Notification Program, coordinates with DC Health to achieve comprehensive contact tracing for the AU community. We continue to update our processes and communications as the pandemic, and local health guidelines evolve.  
Here's five things Wright wants the community to know about contact tracing. 
How exposure is happening
Our contact tracing team conducts phone interviews with every person on campus who tests positive for COVID-19. The interviews include a discussion of how the positive individual may have been exposed. Sometimes we talk to people who don't know where they picked up the virus, but most of the time we hear that they attended a large social gathering or attended a crowded venue in the days leading up to their symptom onset. We also frequently hear that they had a known exposure to a family member, friend or significant other who recently tested positive.
We note this information in our case files because it helps us uncover any additional links. Our contact tracing team meets twice a week to discuss potential emerging trends. We monitor class rosters, place of residence, and group affiliations daily to screen for patterns. Based on what we've seen so far, COVID-19 transmission tends to happen in social settings; we have yet to see evidence of spread in classrooms, dining halls, or athletics programming. I think this speaks to the efficacy of the safety measures we have put in place on campus.
Yes, we see some breakthrough infections, but the vaccines offer strong protection
With our community vaccination rate at 98 percent, it makes sense that most campus members who test positive are vaccinated--what we call "breakthrough" cases. Our overall case rate and the percentage of positive tests continue to be much lower than that of DC, which has a 58.6 percent vaccination rate. This is a strong indicator of how well the vaccines are working. Although many positive individuals experience some symptoms, we have also not seen any hospitalizations or severe illness among our community members. 
One question I'm often asked is, which vaccine did the people who've tested positive get? While we don't have a large enough sample size to make any scientific conclusions about vaccine efficacy, I can say that we have seen positive cases across all three of the FDA-approved vaccines.
Don't question your symptoms–visit the AU test site early and often
A key strategy for controlling the spread of COVID-19 is rapid case identification and isolation. We sometimes see those with symptoms waiting several days to get tested, especially with fully vaccinated individuals. This is partly because the most prevalent initial symptoms--including stuffy nose, sneezing, and headache--are also symptoms of many other conditions and illnesses, including allergies and the common cold.
If you're experiencing any of these symptoms, along with any other COVID-19 symptoms, please don't wait to get tested. Every day that passes without a test can increase your number of close contacts--and potentially spread the virus to more people. If you have even one symptom and are wondering if you should get a test, then you absolutely should. It's convenient and free on campus, and the turnaround time is typically one day.
Contact tracing is fast, but it isn't instantaneous
Often, if a student tests positive off-campus, the student notifies their instructors while they submit a self-report to the university. So if you're a faculty member, you will learn about a positive case in your class before the contact tracing team has had time to interview the positive individual and make the appropriate notifications. We often get calls and emails from instructors wondering why they haven't been notified about a positive student in their class. There can be several reasons, including that the student wasn't present in the class when they were considered potentially infectious or that we are still actively investigating the case.
I think people are sometimes under the impression that our contact tracing process is an instantaneous, automated process. In reality, we are a team of people making calls, notifying close contacts, and emailing class rosters. If a case comes in before noon, we almost always complete all tracing and notification that same day, but it does take time. 
If you haven't heard from one of our contact tracers after a day and think you should have, you can email covidnotification@american.edu with the positive individual's name, and we will look into the case for you. We can't always discuss all the details of each case for privacy reasons, but we will look into it and assure you that the process is underway.
We have a caring and vigilant community 
The past few months of contact tracing investigations have allowed me to speak with hundreds of students, faculty, and staff members--and it's hard to express how proud I am to be part of the AU community. Overall, the contact tracers talk to individuals who understand the importance of self-isolation and contact tracing and provide detailed information to conduct appropriate notifications. We've seen a strong response to the classroom proximity notifications, with the vast majority complying with our recommendation that they get tested. We frequently audit the testing compliance rates for those identified as close contacts, which currently stands at 98 percent.
Transparency and open dialogue are critical to our pandemic response, and it helps to have an informed community take behavioral ownership for curbing the spread of COVID-19. I encourage everyone to visit the COVID-19 dashboard, which is updated weekly.