Social Sciences
Comedy, Truth, Change: CMSI Reflects on 2020 Upon Premiere of New Special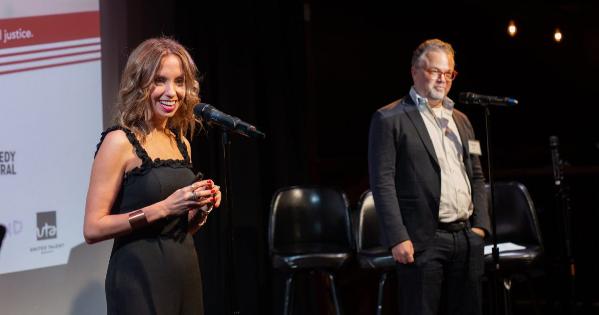 At AU's Center for Media & Social Impact (CMSI), comedy and culture are serious business.
Whether hosting a comedy and social change pitch lab or publishing a new study about the portrayal of homelessness in news and entertainment, the innovation lab and research center makes social justice its mission.
A recent initiative, Ain't Your Mama's Heat Wave, premiered at the DC Environmental Film Festival and will be streaming through March 28. The docu-comedy special, created in partnership with the racial justice organization Hip Hop Caucus, is the first of its kind to combine comedy, racial justice, and climate change.
Housed in the School of Communication, CMSI is the nation's first university-based center to launch both research and creative initiatives focused on comedy and social justice, along with other facets of media and communication.
"Creativity, entertainment, and storytelling tell us what's wrong and what's unjust, so these forces supply social critique," says Caty Borum Chattoo, executive director of CMSI and assistant professor in the School of Communication. "But culture also provides civic imagination. It shows us what the world looks like when it's better, and the kind of world we want to shape for the future—a world that accepts and embraces a full array of lived experiences."
Social progress, according to Borum Chattoo, depends on stories that show us hope and kindness—not just anger. "Showing people in their full humanity can and should be playful and creative, and cultural stories in entertainment welcome people in."
That's where the jokes come in.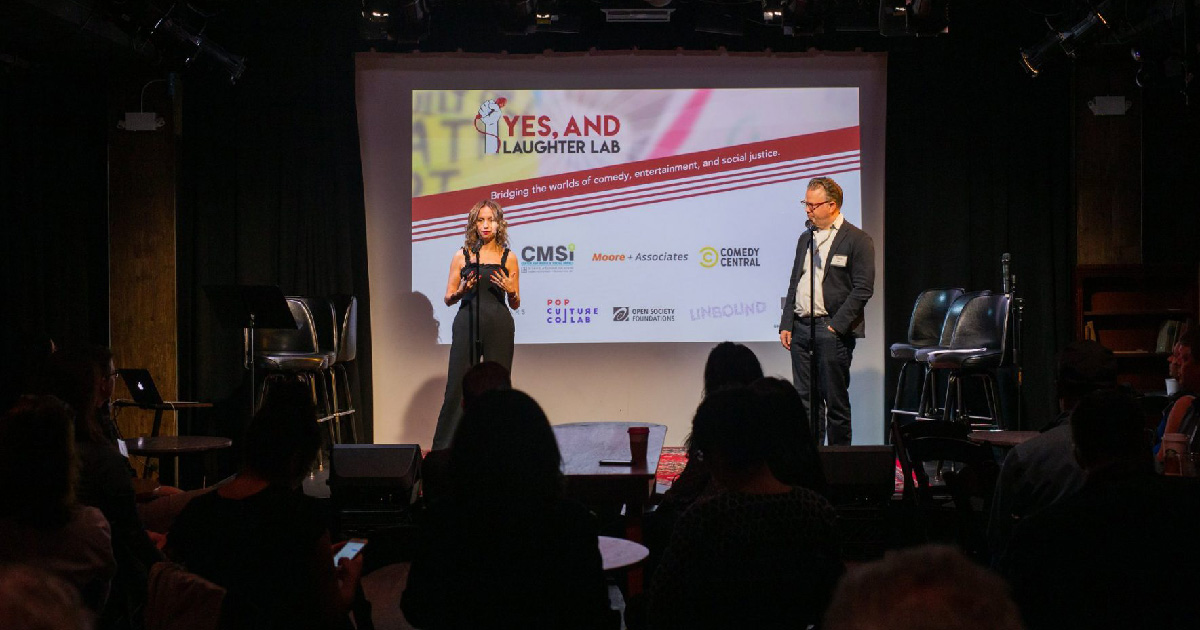 CMSI executive director Caty Borum Chattoo and Mik Moore, co-founders of the Yes, And … Laughter Lab introduce the first annual pitch day event in 2019.
Laughter Is The Best Medicine
CMSI's Yes, And ... Laughter Lab, a competitive incubation lab and pitch program that lifts up diverse comedy writers and performers, celebrated its second year in 2020 and is already in the midst of its 2021 jury process. Launched by CMSI and Moore + Associates, the Laughter Lab is an important pipeline that brings new, traditionally marginalized voices into the entertainment industry and connects them with network executives, social justice organizations, and activists. Partners range from media leaders like Netflix, NBC Universal, and CBS Viacom to social justice power groups like Color of Change and Define American.
From a young Latinx girl raging against the patriarchy to two broke, Black superheroes living in "The Apartment of Solitude," the winning pitches of 2020 all feature worlds we haven't seen culturally reflected yet. "They're not just, 'Here's who we are,' they're saying, 'Come in and get to know us,'" Borum Chattoo says.
And that invitation, she stresses, is vital to social progress.
CMSI helps these comedians break into a business with a history of homogeneity where employment often hinges on who you know. After a summer of racial justice uprisings, the industry is making an effort to listen—and be part of the conversation on social justice.
"The entertainment industry wants to welcome new marginalized voices, and the Yes, And ... Laughter Lab is an important part of that pipeline," says Borum Chattoo.
One finalist has already found success. Thaddeus McCants' script for Lit Lounge, a comedy half-hour TV show that centers on a formerly incarcerated young Black man opening his own legal weed dispensary, has been purchased by BET. The concept is not only a brilliant social critique on the American war on drugs and the punitive stance taken against Black communities in the 80s and 90s, Borum Chattoo explains, it's also very fun.
Change Rooted In Truth
While comedy shows the world as it should be, the art of documentary shows it as it is. Over the course of the year, CMSI has produced, partnered, and curated media and research to inspire social change on issues like climate change, protest movements, homelessness, and housing security.
Multiple CMSI initiatives explored the intersection of environmental justice and equity. In addition to the premiere of Ain't Your Mama's Heatwave, the center's research team released a new study, Breaking the Silence: How Documentaries Can Shape the Conversation on Racial Violence in American and Create New Communities, that highlights how and why documentaries are used to foster public dialogue on racial violence and justice.
To fix a problem we first need to recognize it, and entertainment media can help serve that purpose. Since many independent documentaries are largely made outside of the commercial media system, even if they air on places like HBO and Netflix, they can hold mirrors to parts of the world that might be neglected in media portrayals. "So much of our work, and my work personally, comes down to representation. People telling their own stories is a form of cultural empowerment for them, and for audiences to see and understand the pluralistic tapestry that makes up our world," Borum Chattoo says.
As a scholar, CMSI's executive director works deeply in these areas of creativity and study. In 2020, she published two books about the role of creative culture in social change and was recognized as one of the 16 Documentary New Leaders by DOC NYC, the largest documentary film festival in the US.
Progress In An Ever-Changing Landscape
As the pandemic raged on, CMSI found new—virtual—ways to be there for the communities it serves and raised a record $1.9 million in external grants along the way.
In collaboration with Together Films, a UK-based film organization, they hosted the 2020 Digital Power Series. The eight-week series brought high-level speakers from social justice organizations—like Movement for Black Lives, Founders of Earthrise, and Transgender Strategy Center—and the entertainment industry to share knowledge, tips, and tools of the trade for a digital world.
"Comedy, documentary, digital media—all of this work fits together as cultural artifacts that tell us who we are and help us understand who we want to be," Borum Chattoo says.
When asked what cultural artifacts of 2020 would say about us, Borum Chattoo shared a few reflections. A historic pandemic, politics filled with polarized ideas, a great deal of pain and division. But also beautiful acts of compassion, heroism, and joy.
And, thanks to the work of CMSI, a little more laughter and understanding.