Communications
SOC's Borum Chattoo Launches New Book on Comedy and Social Justice "A Comedian and an Activist Walk into A Bar: The Serious Role of Comedy in Social Justice"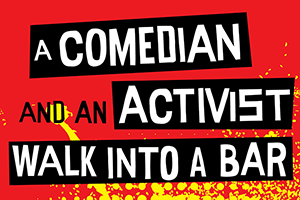 Everyone loves a good joke. And that gives comedy power — first to capture our attention and then to offer new ways of seeing the world. It's long been understood that comedy can shape public ideas and attitudes, but less understood — or taken seriously — is the way in which comedy can be leveraged successfully in the struggle for social change.
In "A Comedian and An Activist Walk into a Bar: The Serious Role of Comedy in Social Justice," co-authors Caty Borum Chattoo, School of Communication professor, and Lauren Feldman, a professor based at Rutgers University's School of Communication and Information, take on that challenge. They ask, when it comes to leveraging comedy for social justice, what works, what doesn't, and why? 
It's a question that the authors have been exploring for years, through their research and in multiple published, peer-reviewed articles (and, in Borum Chattoo's case, through creative media productions in documentary and comedy). With this book, they dive more deeply into the theme, building upon theoretical frameworks in communication and social justice with new case studies, original audience research, and interviews with social justice leaders and strategists.
They also worked with some of the most intriguing names in comedy today, interviewing comedians Hasan Minhaj, with whom Borum Chattoo and a group of filmmakers collaborated to produce the 2014 documentary "Stand Up Planet," W. Kamau Bell, Rachael Dratch, Jenny Yang, Negin Farsad, Franchesca Ramsey and others.
The book, which is the launch volume for the University of California Press' new Communication for Social Justice Activism series, offers critical new insights about the role of comedy in social change, and it offers them at the right time. In this moment — the postmillennial participatory media age — the authors argue, comedy has unprecedented potential to inspire change on pressing issues such as climate change, immigration and global poverty.
As audiences seek diverse, entertaining media content to make sense of the world, demand for comedy with a broad and varied range of topics and lived experiences is growing, and comedians are viewed as some of the rare "truth-tellers" in media. New technologies and platforms have also extended comedy's reach, making it more accessible, and to a wider audience, than ever before.
They write that "comedians who say something serious about the world while they make us laugh" are uniquely capable of connecting with audiences and overcoming resistance to new ideas. They can also reshape the narrative around an issue, "offering fames of hope and optimism," to overcome feelings of fatigue and powerlessness and to inspire activism. On the other hand, the authors show that designing comedy for specific outcomes is more complicated than it appears, and there is no one-size-fits-all solution.
For students and researchers, the book offers new insights and a richer framework for understanding the role of mediated comedy in social change movements. For social justice advocates, the authors offer examples of successful partnerships between activists and artists, and practical ideas for building collaborative relationships. They also help imagine future applications for comedy in social justice initiatives.
"A Comedian and an Activist Walk into A Bar" was published in March by the prestigious University of California Press, and has been well-received by its reviewers, both from the world of academia and comedy.  In June, the book was listed as no. 4 on the Book Authority's list of "32 Best New Social Activism Books To Read In 2020." It also received an early positive review in Mass Communication and Society, a top academic journal in media and communications.
The foreword was written by no less than Norman Lear, the legendary TV comedy writer and producer whose TV sitcom narratives (on popular shows like "All in the Family," "Good Times," "The Jeffersons," and "Sanford and Son," among others) were ground-breaking in their treatment of racism, homophobia, and gender equality. 
Lear wrote, "As they reveal in this book, 'A Comedian and An Activist Walk Into a Bar: The Serious Role of Comedy in Social Justice,' authors Caty Borum Chattoo and Lauren Feldman recognize that the social landscape is different when comedy is afoot. The more comedy is there to stir the mind and the emotion, the more we think and talk and feel and understand what we're going through. Comedy supplies a unique lens that can help repair the world (but only if the comedy is thoughtful and really funny). For students, activists, social justice organizations, scholars, and media professionals, this book helps explain why and how comedy matters, and why creative expression is so vital to democracy. I couldn't appreciate these ideas more."
Award-winning comedian and TV host Hasan Minhaj ("The Daily Show" and "Patriot Act With Hasan Minhaj") endorsed the book as "a comprehensive and insightful examination of the ways comedy can help shape social justice movements." He wrote, "It is an important read for anyone interested in understanding our current media landscape as a whole."
Caty Borum Chattoo is executive director of the Center for Media & Social Impact, based at AU's School of Communication, where is she also an assistant professor. In fall 2020, she will teach AU's first-ever "Comedy and Social Change" class.  
Lauren Feldman is an associate professor of journalism and media studies at the School of Communication and Information at Rutgers University.