Mon and Thurs: 9am-6pm Tues, Wed, and Fri: 9am-5pm
Summer hours: M-F 9am-5pm
Closed Saturday and Sunday
Contact:
Callandrillo, Traci Edwardson
Assistant Vice President Campus Life
Counseling Center
4400 Massachusetts Avenue NW
Washington
,
DC
20016-8150
United States
Drop-in groups are available to all enrolled students at American University. There is no need to schedule an Initial Consultation appointment or register prior to attending. Just drop-in.
Overcoming Procrastination: Wednesday, October 3rd, 5-6pm
(Location: MGC 247)
Managing Stress: Wednesday, October 17th, 5-6pm
(Location: MGC 245)
Tackling Test Anxiety: Wednesday, November 7th, 5-6pm
(Location: Library 150)
Ongoing group therapy provides a caring context in which you can talk confidentially with other students who share your concerns or experiences. A group can be a wonderful source of feedback, support, good humor, and creative ideas for how to cope with personal or interpersonal challenges. Therapy groups are confidential and are led by Counseling Center clinicians.

If you are interested in participating in a group, please contact the Counseling Center as early in the semester as you can to schedule an Initial Consultation appointment. During that appointment, please share your interest in group. Unless noted, students are required to attend an Initial Consultation and pre-group meeting before attending group. These meetings help to determine if the group of interest is a good fit for you at the time. If you have ideas for an additional group that would interest you, please let us know!

 
Groups Offered: Fall 2018 Therapy Groups
Understanding Self & Others: Insight-Oriented Process Groups
Do you want to express yourself better in relationships? Do you want to build stronger and more meaningful relationships? Do you feel anxious, lonely, or isolated in the midst of so many people? Do you want to make changes but are not sure how to do so? These are common experiences for many students. This group is designed to create a safe environment for students to better understand who they are, explore relationship patterns, and try different ways of relating with other people all within a safe and confidential setting. Possible topics of discussion can include trust, intimacy, anxiety, anger, sadness, and isolation.
Group 1: Tuesdays, 3:00-4:15pm
(Leaders: Bernasha Anderson, Ph.D. & Alyssa Poblete, M.Phil.)
Group 2: Thursdays, 2:00-3:15pm
(Leaders: Frances Rekrut, Ph.D. & Sarah Conlin, M.S.)
Group 3: Thursdays, 4:00-5:15pm
(Leaders: Jackie Darby, Psy.D. & Leslie Rubin, M.S.)
Group 4: Fridays, 1:00-2:15pm
(Leaders: Jen Bakalar, Ph.D. & Arubah Khan, M.S.)

"CARE Group" for Survivors of Sexual Assault
The Connect And Reconnect Group is a group for survivors of sexual assault. The purpose of the group is to provide a safe and supportive space for survivors to work together to increase their understanding and coping with their experiences. Group members can decide together the most meaningful focus for the group and care will be taken in deciding when and whether to discuss specific traumas more directly. Possible topics of discussion include: exploring how your experiences of interpersonal violence can impact your sense of safety, trust, self-esteem and relationships; the physiological effects of trauma, including disrupted sleep and/or concentration; understanding feelings such as guilt, shame, and anger; emotion regulation and self-care; connection and relationship building.
Fridays, 3:00-4:15pm
(Leaders: Shatina Williams, Ph.D. & Shari Matray, M.S., LGPC)

Grief Group: Grieving and Growing through Connection
This group is for students who wish to understand their grief experiences in a supportive and safe group space. The group aims to help group members receive support and understanding and provide the same to others. Sharing with fellow group members is also intended to foster new ways of approaching various situations and reshape the meanings of loss in life and relationships.
Mondays, 3:00-4:15pm
(Leaders: Daniel Birichi, Ph.D. & Alyssa Poblete, M.Phil.)

LGBTQ+ Group
This group is designed for students who identify as lesbian, gay, bisexual, transgender, queer and other students navigating their sexual and/or gender identity. The group provides a confidential, safe, and supportive space for students to explore their sexual and/or gender identities, lived experience, coming out, dating, family, relationships, community, and other areas of interest to group members.
Wednesdays, 3:00-4:15pm
(Leaders: Daniel Birichi, Ph.D. & Sarah Conlin, M.S.)

How to DEAL
This group is designed for students who would like to learn how to cope with painful or strong feelings and learn how to manage them more effectively. Over the course of this 6-week group, participants will learn and practice skills related to mindfulness, interpersonal effectiveness, distress tolerance, and emotion regulation. While there will be room to talk about one's personal life and concerns, the group is set up to function like a small class with group leaders teaching skills and participants sharing what it's like to practice them.
Wednesdays, 2:00-3:00pm
(Leaders: Laura Herron, Ph.D. & Leslie Rubin, M.S.)

Our Voices: A Supportive Space for Students of Color
The group will serve to openly engage in dialogues about the lived experience of being a person of color on this campus. This group serves to empower students and help them recognize that there are others who share similar experiences. Our Voices ultimately serves as an outlet for people of color to come together weekly to foster community, learn to navigate being at a PWI, and enhance their success at AU.
Mondays, 1:00-2:15pm
(Leaders: Jackie Darby, Psy.D. & Arubah Khan, M.S.)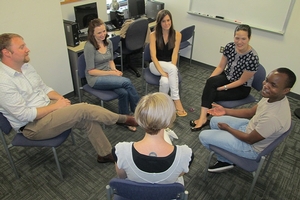 Image info