International
SIS offers new joint undergraduate degree with Ritsumeikan University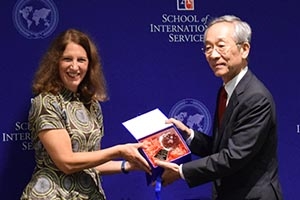 Beginning in 2018, the School of International Service (SIS) and Ritsumeikan University (RU) in Japan will offer a new joint undergraduate degree. The joint degree will be the first of its kind offered anywhere in the world.
The degree will bring Japanese students based at RU to SIS for two years of study, and will likewise send SIS students to RU's campus in Kyoto for two years. Sakura Scholars, named after the Japanese word for "cherry blossom," will simultaneously enroll at both universities and will graduate with a BA in Global International Relations jointly issued from RU and American University (AU).
SIS's relationship with RU extends back to 1986, when the two universities were connected with the support of the Japan Society and SIS's first Japan specialist. In 1992, the two institutions established the first-ever dual master's and undergraduate degree programs between US and Asian universities. SIS has also offered undergraduate and graduate study abroad programs to RU for many years.
"SIS and RU have had a longstanding relationship that is a source of great pride, and I'm pleased to see the continuation and further strengthening of that relationship through this joint degree," said Interim SIS Dean Christine BN Chin.
Although the new joint degree will take advantage of the close ties established over 25 years of institutional partnership, it will differ from the existing dual undergraduate degree in several ways. The Global International Relations curriculum is more clearly defined and will seamlessly integrate SIS degree requirements, AU's core undergraduate requirements, and distinctive elements of RU's education. Students from both universities will be "cohorted" and will take a number of degree-specific courses together.
"SIS and RU students will take the same set of prescribed courses and will choose one of three thematic areas to focus on during their studies," said SIS Professor Rose Shinko, assistant dean for undergraduate education. "In this way, it's a much more focused and deliberate curriculum compared to the dual undergraduate degree with RU. Through a collegial and collaborative process with RU, we worked to create a seamless educational experience for students."
The degree's cornerstone focus is US-Japan relations. Sakura Scholars will benefit not only from their coursework, but also from experiences gained by living and studying abroad over a two year period.
"For US students interested in the study of Japan, or those who want to think about the relationships between Asia and the United States, this degree is a tremendous opportunity to develop language skills and cultural competencies," said Shinko. "Similarly, Japanese students will benefit from developing English language skills, culturally immersing themselves in the US, and finding internship opportunities that abound in DC."
Officials from both universities, as well as from the Embassy of Japan, gathered at SIS on September 11 for a signing ceremony to launch the joint undergraduate degree.
During the ceremony, RU President Mikio Yoshida remarked, "I am impressed about how deeply American University and Ritsumeikan University share the same values, educational philosophy, and manner of governance. Specifically, we share the spirit that we transcend borders and divisions."
Looking ahead to the impact the degree will have on international affairs, Yoshido said, "There is no doubt that Sakura Scholars will support the bond between the United States and Japan and strengthen the link between the United States and East Asia."
After speaking about her positive personal experiences while studying abroad in Japan, AU President Sylvia Burwell shared her expectations for those involved in the degree: "Sakura Scholars, and the faculty and staff involved in their education, will develop and foster international cooperation through their teaching, their learning, and their research. The yearly exchange of students, faculty, and administration will deepen our ties and open new opportunities for cross-cultural engagement. It will inspire a new generation of global leaders, researchers, and activists."