International
Growing Environmental Concern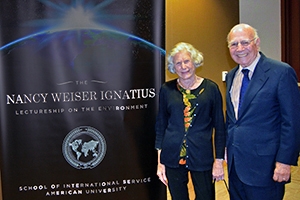 At a time when the United States has withdrawn from the Paris Climate Agreement, when severe weather causes more frequent disasters, and when natural lands and resources are depleting, Nancy Weiser Ignatius, SIS/MA '69—a longtime advocate for the environment—admits that she wishes she could be more optimistic about the future of our planet.
However, at 92 years old, the alumna has seen environmental consciousness take off during her lifetime and is partly responsible for the growth and momentum it knows today. More than 40 years ago, Ignatius was the co-founder of Concern, Inc., an organization established in 1970 that informed and empowered consumers, mostly female homemakers, to demand sustainable options for everyday goods.
"People weren't talking about the environment then, but it was something that I was beginning to worry about. My friend, Cynthia Helms, and I talked about it and wondered, 'Who's going to take care of it?' We both looked at each other and said, 'Why don't we?'"
Ignatius and an all-female group of volunteers at Concern, Inc. decided to prepare pamphlets and to mail them with carefully researched information, calling them Eco-Tips. They described ways in which to achieve a more sustainable lifestyle through their actions at the grocery store and in their daily habits. For example, purchasing soft drinks and beer in returnable bottles, using low- or no-phosphate detergents, and buying cars that burn lead-free gasoline.
Eventually, Ignatius and Eco-Tips caught the attention of businesses. She recalls being told by a businessman that she didn't know what she was talking about and that she didn't know anything about business: "Concern, Inc. and a lot of environmentalists got that kind of criticism. We might have had good ideas, but businessmen believed we didn't know how our advocacy could adversely affect their companies."
But Ignatius pressed on. Concern, Inc. inspired women to write letters to store managers and businesses and to advocate for greater availability of environmentally-friendly products. The organization took off when Parade Magazine mentioned it in an article about Cynthia Helms, co-founder of Concern, Inc. and wife of former CIA Director Richard Helms. "We didn't know what hit us after that article came out," says Ignatius, "and a lot of small contributions were sent to us."
A mind for service
The success and growing staff at Concern, Inc. enabled Ignatius to pivot her focus from volunteering at the organization to a more formal and paid position in the government. At the Department of Energy, Ignatius was tasked with delving deep into alternative sources of energy. She launched the first solar energy exhibit in 1976 on a section of the National Mall at a time when conversations about the potential of solar energy were hardly beginning. Later, Ignatius worked for the Environmental Protection Agency (EPA) before being one of the many EPA employees terminated during the Reagan administration.
"It was frustrating," she admits. "I thought, 'If these are good ideas, why does it matter if someone has a different political ideology? They should have agreed on the things we were doing.'"
The movement today
Today, Nancy Weiser Ignatius remains active in environmental issues and continues to champion sustainability. In 2015, she and her husband Paul R. Ignatius endowed the Nancy Weiser Ignatius Lectureship on the Environment at the School of International Service (SIS). The annual fall lecture has so far brought renowned environmentalist Bill McKibben and former Secretary of Energy Ernest Moniz to Ignatius' alma mater to engage with current students on the challenges facing the planet. This year, SIS will welcome Rhode Island Senator Sheldon Whitehouse to deliver the 2017 Nancy Weiser Ignatius Lecture on the Environment.
"Right now, there are a lot of people who don't want to make the environment and global warming a high priority, but it's going to affect us, so you have to do something," she says. Her best Eco-Tip today for contributing to a stronger, healthier planet is to become informed on the subject and to dedicate the time and resources to organizations—including scientific organizations—that help push for a greener world.
Soon Ignatius will celebrate the 50th anniversary of her graduation from SIS and will join the ranks of the university's Golden Eagles. In the years since she graduated, SIS has committed itself to preparing future environmentalists to carry the torch that Ignatius helped ignite. Not only has the school established two master's degrees around sustainable resources and environmental policy, but it has housed them in American University's first-ever LEED Gold-certified building, completed in 2010.
While SIS's Global Environmental Politics programs may not have been in the realm of possibility while Ignatius was a student, her rationale behind attending SIS to learn more about the environment and the world at large still holds true today: "It was something that I just felt I didn't know about. I felt I needed to know more about the world, and not just our country. The School of International Service was the perfect place to go."
Learn more about the 60th anniversary of the School of International Service.