International
Peace Corps and SIS: Communities of service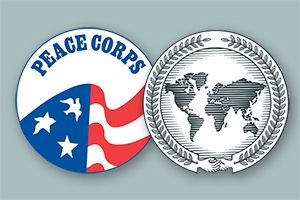 Former Director of the Peace Corps Aaron Williams may have said it best when he addressed the School of International Service's Class of 2011 as commencement speaker: "When people join together in a common cause, they can achieve extraordinary things." For nearly 60 years, SIS has worked together with the Peace Corps and has enjoyed a longstanding relationship with them grounded in a common cause: to build peace and understanding through service.
The beginnings
While the Peace Corps was founded four years after the School of International Service (SIS), the history between the two institutions dates further back. In the fall of 1960-shortly after President John F. Kennedy proposed the establishment of the Peace Corps-American University (AU) sent delegation to Princeton, New Jersey, to attend the American Youth and the Emerging Nations conference. There, attendees discussed the possibility of a corps of young men and women that would "be designed to provide an expression of American concern and to work with local problems in the world's underdeveloped areas," The Eagle reported in an article about the conference.
Among AU's delegation at the conference was Thomas Manton, SIS/BA, MA '62 and SIS/PhD '68, who later became chairman of the Student Committee on the Peace Corps at AU. "The proposed Peace Corps vitally affects each and every student at the American University," he said at the time of the Peace Corps' inception. On March 1, 1961, the Peace Corps was established through an executive order signed by Kennedy. Later that month, Manton and the university hosted 500 representatives of students and youth groups across the nation for a conference on youth service abroad to address and coordinate Kennedy's then-new initiative.
Since then, the Peace Corps has been a consistent presence at the university, and particularly at SIS. In 2010, SIS established its first formal academic engagement with the Peace Corps through their Master's International program, which provided an opportunity for graduate students to pursue advanced degrees while serving overseas. SIS also partners with the Peace Corps to offer a fellowship program to Returned Peace Corps Volunteers (RPCVs) and a Peace Corps prep Certificate to undergraduate students interested in volunteering for the Peace Corps.
A shared approach to international peace
Throughout our 60-year history, SIS has graduated 1,092 Peace Corps volunteers, and American University consistently ranks among the top schools to produce volunteers. This year, AU ranked number two in the US for number of volunteers produced by medium-sized colleges and universities, with 49 active volunteers-most of whom graduated from SIS.
Stephen Angelsmith, director of SIS Peace Corps programs, attributes SIS's popularity as a destination for returned and future Peace Corps volunteers to the shared values and histories both organizations hold: "One of the things I like to stress is that the ideas and origins of Peace Corps and SIS are grounded in the same era and the same problems. They have similar approaches to international problems and offer similar solutions and views to these issues."
Both the Peace Corps and SIS were established during the Cold War, when peace was threatened and global tensions high. While SIS was born out of President Dwight Eisenhower's challenge for an institution of higher education to prepare leaders to "wage peace," President Kennedy launched the Peace Corps through his charge for aspiring doctors and engineers to serve their country and the world through shared knowledge and experience.
"Some of our goals and strategic outlook are the same. At the university, we talk about bringing the world to AU and AU to the world; the Peace Corps does the same thing by bringing Americans out into the world and the world to Americans. The two are grounded in a holistic approach to creating change and solving problems, and emphasize the importance of intercultural and crosscultural communication understanding and familiarity in order to solve the world's problems," says Angelsmith.
SIS's community of service leaders
Angelsmith himself is a returned volunteer from Turkmenistan, where he was a health facilitator turned youth development facilitator. He is joined by many others in the SIS community who have served in similar volunteer roles, like Jessica Himelfarb, SIS/MA '18, a returned Peace Corps volunteer from Ethiopia who is graduating from the International Peace and Conflict Resolution (IPCR) program this spring. Himelfarb's extensive international experience growing up inspired her to pursue peacebuilding and development projects abroad. "I joined the Peace Corps because I wanted to see what it would be like to have the backing of a big organization to help with the implementation of small projects," she says.
While teaching English in Ethiopia, Himelfarb became aware of internal conflicts in the region. "I've always felt that people coming together and talking across difference is important in de-escalating conflict and establishing peace," she says. However, Himelfarb says this wasn't working so well in Ethiopia. Compelled to build the foundation and skills to impact change in a nation like Ethiopia, Himelfarb applied to the IPCR program to gain those skills.
Himelfarb's story is similar to many other returned volunteers who seek skills and training at SIS. However, other members of the SIS community have gone on to work for the Peace Corps in government and career-related capacities. Esther Benjamin, SIS/MA '92, CAS/MA '95, says the years that she spent leading the Peace Corps' worldwide operations as associate director of global operations "was and will always be a career highlight" for her.
Peace for all time
While the Cold War-as experienced during the respective beginnings of SIS and the Peace Corps-may be over, the need for peace and service that Presidents Eisenhower and Kennedy envisioned still are relevant today. In SIS's 60-year history, the school has grown to offer more than 20 graduate programs that train students in fields ranging from intercultural communication and peacebuilding to environmental sustainability and social entrepreneurship. In the Peace Corps' 57-year history, the organization has grown from serving in only five countries to 141 countries, with more than 220,000 Americans answering Kennedy's call for service.
Together, SIS and the Peace Corps continue to work toward "peace for all time," as President Kennedy said during his "peace speech" at American University's 1963 commencement ceremony:
"I am talking about genuine peace, the kind of peace that makes life on earth worth living, the kind that enables men and nations to grow and to hope and to build a better life for their children-not merely peace for Americans but peace for all men and women-not merely peace in our time but peace for all time."
Learn more about the 60th anniversary of the School of International Service.