International
A Visiting Scholar from Sierra Leone Furthers Feminist Research at SIS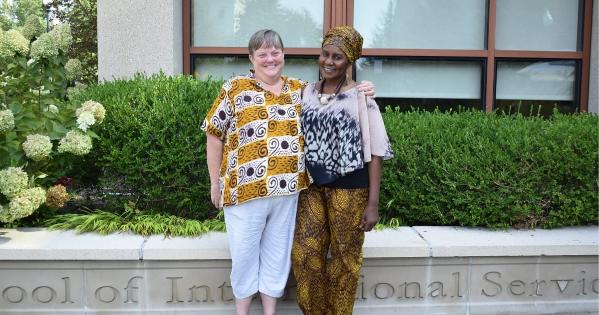 Aisha Ibrahim, a feminist scholar and activist based at the University of Sierra Leone's Institute for Gender Research and Documentation, spent two months at SIS this fall as part of a West African Research Association (WARA) Residency Fellowship. WARA is an organization dedicated to the promotion of research on West Africa and scholarly exchanges between West Africa and the US.
Ibrahim viewed the fellowship as an opportunity to continue collaborating with her colleague and friend, SIS professor Susan Shepler. Since 2020, she and Shepler have been conducting research on approaches to addressing sexual and gender-based violence (SGBV) in Sierra Leone, Liberia, and Cote d'Ivoire. During her time at SIS, Ibrahim not only furthered this research—she also was able to increase her network of fellow scholars.
Collaborating across Continents
Ibrahim and Shepler met in Freetown while they were both PhD students and quickly discovered they had many research interests in common.
"We've worked on a number of projects before," says Ibrahim. "It's been a fantastic friendship and collaboration for the past 15 years or so."
Last year, she and Shepler conducted fieldwork in Sierra Leone and Liberia to analyze how stakeholders working to address SGBV were using a male engagement strategy. In other words, how are these stakeholders involving men in the process of combatting such violence? They interviewed a range of stakeholders, including governments, NGOs, police officers, and courts, collecting data on what they had done, are currently doing, and plan to do to combat SGBV.
"We wanted to know, from a feminist perspective, whether or not this sort of engagement was gender transformative or if the stakeholders were just reinforcing patriarchal beliefs," says Ibrahim. "Were they saying 'you are stronger than women, and you should protect them because they are weaker?' Or were they saying things like 'women have rights, and certain actions you take are against their rights?'"
At SIS, Ibrahim and Shepler took time to form the backbone of their research paper. They combed through and coded their interviews with the stakeholders, identified emerging themes, and analyzed the existing literature on their topic.
Preparing for Continued Fieldwork
Along with analyzing and organizing their collected data, Ibrahim and Shepler took advantage of the two months together to prepare for more work in the field. The two scholars recently received a grant from the Overseas Development Institute through which they will expand their project on SGBV and the male engagement strategy.
"It's been wonderful having Aisha here," says Shepler. "We've been talking for many years about our research interests and the projects that we want to do together, and to have this dedicated time to meet and work every day has been generative for completing existing projects and thinking about new ones we can do together."
Later in the fall, Susan will join Aisha in Sierra Leone and they will observe how trainings meant to combat SGBV are conducted by some of the NGOs they interviewed. This fieldwork also will serve as a training opportunity for Ibrahim's students from the University of Sierra Leone, as they will be involved in the observations. The scholars also plan to interview workshop participants as well as women who could tell them if any noticeable changes have taken place in their communities since the trainings.
"Now we want to see what's happening, not just what stakeholders tell us," says Ibrahim. "We want to observe how the trainings are conducted, understand what participants get out of them, and how the trainings change attitudes and beliefs."
Opportunities to Expand a Scholarly Network
Through the WARA fellowship, Ibrahim also met SIS faculty whose fields intersect with her interests. She made connections with feminist scholars who have been trained as political scientists and anthropologists as well as Africanist scholars.
"It's very important to me to learn how other scholars are addressing these issues and to learn more about the interesting work they are doing. There are lots of anthropologists here at SIS, and a lot of the work I'm doing with Susan is anthropological," says Ibrahim.
"While Aisha's been here, we've strategized and brainstormed ways that her institution in Sierra Leone and American University can link up in the future," says Shepler. "Having even the brief meetings with SIS faculty here has been amazing, and I think we could really gain a lot from extending those conversations further."