International
SIS Students and KU Leuven Students in Belgium Work Together during Course on Transatlantic Relations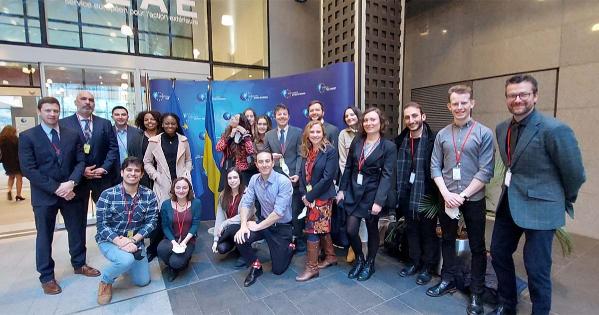 During the spring semester, SIS graduate students took a course that not only taught them about transatlantic relations but also allowed them to develop such relations first-hand. Professor Garret Martin, co-director of AU's Transatlantic Policy Center, worked with Christine Gettings, SIS's director of international programs and partnerships; Professor Michael Schroeder; and Professor Michelle Egan to create and launch the Re-Imagining the Transatlantic Order course. Seventy SIS students applied to take the class, and ten were ultimately selected. Throughout the semester, the SIS students and students at KU Leuven in Leuven, Belgium, learned together, exchanged perspectives on different issues, and even visited each other in person, with SIS students spending a week in Belgium in March and KU Leuven students visiting Washington, DC, in April.
Each week, students from both schools gathered in their respective classrooms and were connected virtually via Zoom. Martin and his counterpart at KU Leuven, Professor Kolja Raube, co-taught, taking turns lecturing and asking questions and alternating whether answers would come from the SIS or KU Leuven class. They also used breakout rooms so that students from both schools could work together.
"There were a lot of moving pieces, and it was important to us that students could take part in those direct exchanges in small groups. That way, during class, they could experience different perspectives directly, not just through the professors," says Martin.
Experiencing Different Views First-Hand
Lillian Sullivan, SIS/MA '23, had taken a course with Martin before, and after learning that he would teach a course in which students could interact with their peers at a European university, she jumped at the opportunity. Sullivan previously studied abroad in Ireland at the University College Dublin as an undergrad, and that earlier transatlantic experience helped encourage her to apply for and enroll in the Re-Imagining the Transatlantic Order class.
"I love travel, so the chance to do so it again as part of a class was really exciting," says Sullivan. "And the chance to learn about transatlantic relations with students from a European university, as well as with my peers here at AU, was both a unique and interesting opportunity. I was thrilled to apply and to be part of the course."
For Sullivan, one of the most valuable aspects of the course was the ability to absorb a diverse set of perspectives on various transatlantic topics, including security, trade, climate change, migration, and even the invasion of Ukraine, as the war began to unfold over the course of the semester: "It's one thing when you're talking about relationships of the US with different countries with fellow American students, but to actually engage in discussion on transatlantic relations and topics with students who actually are from Europe and work in the EU—I think that creates a dynamic that's both fruitful and expansive.
"We aren't just hearing the US side of things—we're getting to hear how they view the US and the events that have taken place, which really allows us to broaden what we think and how we think, beyond just our side of situations," Sullivan concluded.
Tommaso Filippini, a KU Leuven graduate student in the European Studies program, also valued learning about the American views on transatlantic relations firsthand. He enjoyed working on projects together with the SIS students, learning more about their backgrounds and how they approached research and presentations.
"Working with the SIS students was great. They were super prepared, and you can tell they have a passion for this," says Filippini. "They come from very different backgrounds—some were in the military, others had just finished undergraduate school, and others had work experiences in other fields. It's a very different environment because our course in Europe consists, mostly, of students who just finished their bachelor's. This course was more diverse in that sense."
The Chance to Connect In-Person
Having the SIS students visit Belgium was a fundamental component of the Re-Imagining Transatlantic Relations course. In order to address any financial barriers students might face, Martin, Schroeder, and Gettings made sure SIS funded the trip.
"It was very important to make this affordable so that there wasn't a barrier in terms of who could be included. We had a pretty rigorous application process, but we didn't want financial means to be a factor when it came to whether someone could go or not," says Martin.
During their spring break in Belgium, the SIS students got to meet with their European classmates face-to-face at KU Leuven. They also were able to engage with policymakers who worked in fields that dealt with themes they'd learned about in class and visit high-profile institutions, including the European Commission and the European External Action Service.
Several weeks later, some of the KU Leuven students came to visit DC. They met with policy experts and diplomats and attended an SIS event on transatlantic diplomacy, which featured Jan De Pauw, deputy chief of mission at the Embassy of Belgium in Washington, DC; Piper Campbell, retired diplomat, former US ambassador to Mongolia, and current SIS professor; and Pablo García-Berdoy, former Spanish diplomat, ambassador, and permanent representative to the European Union.
"It was great meeting with people in very important positions in our field of interest. That's the great added value of this course," says Filippini.
Valuable Experiences for Future Careers
The course broadened the students' knowledge and perspectives about transatlantic relations. Sullivan sees such enrichment as a big benefit for building a career in transatlantic security: "US national security is inherently tied to our relationships with our allies. Being able to understand the different views of what the future of our common defense relationship is going to look like will make me a more useful participant in the process of transatlantic security as I move forward."
Through class interactions and the trips abroad, students were able to grow their networks as well. In Sullivan's view, this aspect of the course is one that will certainly help her career in the long run and has led to new and valuable friendships.
"A lot of the KU Leuven students have plans to eventually work in EU institutions, so the fact that we're already getting to know them and have become friends with them—I think that will be helpful down the line," says Sullivan. "While we're navigating what our postgraduate lives are going to look like, we're creating a foundation now of having a transatlantic network of colleagues."