International
SIS Alumna Named School's First Knight-Hennessy Scholar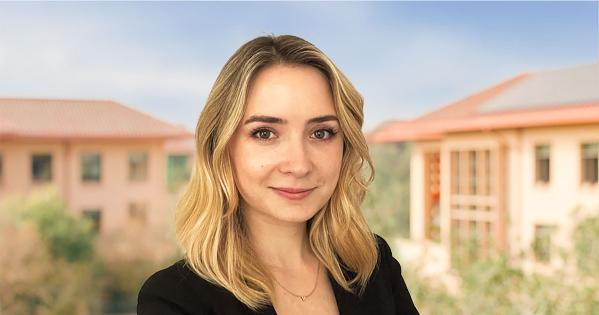 On May 6, Stanford University announced the 2022 cohort of Knight-Hennessy Scholars, and for the first time, an SIS alumna was among those named. Madison Freeman, SIS/BA '16, received the honor, which includes up to three years of graduate studies at Stanford University in California.
Freeman brought impressive credentials and experience to the application process. She served as a senior advisor on technology and innovation to Special Presidential Envoy for Climate John Kerry and spent several years in venture capital, where she helped to invest in climate and clean energy startups and establish funds focused on backing underrepresented founders and deep decarbonization breakthroughs. Freeman also founded and directed the NYC chapter of the Clean Energy Leadership Institute and was a 2021 Women Leader in Energy and Climate Fellow with the Atlantic Council. Her big-picture goal is to scale emerging climate solutions, especially those accelerating industrial decarbonization.
We caught up with Madison Freeman to ask her a few questions about how she plans to make the most of the opportunity afforded by Knight-Hennessy Scholar program and how her undergraduate degree from SIS has helped her launch her career to date.
Why did you apply to be a Knight-Hennessy Scholar?

I was drawn to the Knight-Hennessy program because of its unique multidisciplinary community and its empowerment of mission-driven leadership in the face of complex challenges. I am thrilled about the chance to collaborate with students who have very different backgrounds and are working across Stanford's graduate schools. I have already had the chance to meet scholars who are focused on topics as wide-ranging as the history of food to artificial intelligence, and I am deeply excited about learning from and with my fellow scholars.
I am extremely grateful for the opportunity afforded by the Knight-Hennessy Scholars funding support to further my education and deepen my focus on emerging decarbonization solutions at Stanford, a school that takes the climate challenge so seriously it is creating one of the first ever schools specifically focused on sustainability and climate. It's truly an honor, and I hope to use it to make meaningful change.

What do you hope to achieve through your time at Stanford and after graduating?

At Stanford, I am pursuing a joint MBA and an MS degree through the E-IPER program, which is an interdisciplinary program focused on energy and climate. Through these two programs, I am looking forward to deepening my technical understanding of climate solutions and developing a greater ability to lead complex businesses and organizations. I also plan to take advantage of the many opportunities on campus to experiment with developing startups, like the Climate Ventures course, and the rich ecosystem of scientists, founders, and investors surrounding the university.
Ultimately, through my time at Stanford I aspire to found a climate startup that takes an industrial decarbonization technology out of the laboratory and scales it to make a significant impact on decarbonizing a hard-to-abate sector.

You've worked on energy and climate since graduating from SIS in 2016, and you now work as a senior advisor on innovation to Special Presidential Envoy for Climate John Kerry at the US Department of State. What motivates your work in climate?

After graduating from SIS, I started my career in energy policy think tanks, where I found that I was most passionate about emerging technologies. I then spent three years with a climate-focused venture capital firm, where I learned how to evaluate startups to understand how promising technologies can be accelerated to the scale where they can make a serious dent in carbon emissions. I am now back in the policy arena, where I cover innovation and emerging decarbonization technologies for the Climate Envoy.
I am motivated to work on reducing the impact of climate change because I want to enable a more stable and resilient future for people living across our world. Climate intersects with every other issue out there, and we must make fundamental changes to create an enduring set of economic and social systems. Through my work in policy and venture, I have seen that the requisite solutions to mitigate greenhouse gas emissions are not progressing rapidly enough, and that the companies needed to meet climate goals must be built today and supported by governments through thoughtful and effective mechanisms.

How did your education at SIS and your undergraduate degree in international studies prepare you to work in this field?

Studying international relations helped me understand how systems work on a broader scale. To be successful in any part of the climate ecosystem—be it advocacy, entrepreneurship, or governance—you have to understand how policy, finance, technology, and markets all connect. The curriculum and professors at SIS helped me develop the skillset to see the intersections of different themes, stakeholders, and challenges. AU also afforded me tremendous opportunities to engage with practitioners on the topics I was studying through internships, off-campus site visits in DC, and study abroad semesters in Turkey and Scotland.

The Class of '22 is right in the middle of commencement activities. Any words of advice to your fellow SIS alumni about how to make the most of the first five years of your career?

I want to encourage anyone who is graduating now to follow what you are most passionate about and to give yourself room for that passion to change. Even in just the past six years, my career has already taken several turns I would not have predicted when I was graduating from AU. Careers are as complex and multifaceted as the rest of our lives, and by allowing myself to re-evaluate how I wanted to make the most impact, I was able to carve out opportunities to work with incredible people on projects and challenges I deeply care about.