School of Communication
4400 Massachusetts Avenue NW
Washington
,
DC
20016
United States
AU L.A. Intensive Gives SOC Group Unparalleled Hollywood Access
Less than a week after the School of Communication 2018 commencement, 20 SOC students and alumni looking to break into the entertainment business got a huge boost to their professional pursuits via "AU L.A. Intensive," an adventure that provided them in eight days with industry exposure that others work years to achieve.
Arriving on May 16, the group of current students and recent graduates —the majority of whom had never been to Los Angeles before—got a spectacular introduction to Hollywood life as they stepped into the 10,000-square-foot mansion that the school leased to serve as "A.U. West" for the week. Nestled in the hills of the Pacific Palisades neighborhood, with views of the ocean and purported glimpses of stars like Christian Bale, the Mediterranean-style villa served as their home, meeting place, and operational headquarters.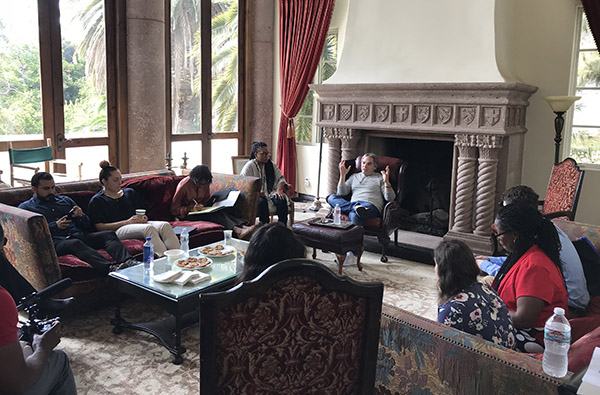 AU L.A. Intensive's schedule presented a wide range of opportunities to learn about the entertainment business. Chief among those offerings were meetings with executives, writers, directors, producers, and actors working in television and film, almost all of whom are either SOC/AU alumni.
Wednesday, May 16
12—3:30 PM

Students Arrive

5:30—7 PM

Eddie Leavy @ "AU West"

7—10 PM

Young Alumni Reception and Program @ "AU West"
Thursday, May 17
11 AM—2 PM

Sony site visit

3:30—5:30 PM

Danielle Claman Gelber @ "AU West"

7 PM

Entertainment Media Alumni Alliance
Networking Reception featuring Danielle Claman Gelber, Evan Spiliotopoulos, and James Middleton @ "AU West"
Friday, May 18
9:30—11:30 AM

Barry Josephson @ "AU West"

2:45 PM

L.A. Landmark tour with Bonnie Winings @ Griffith Observatory

Evening

Taping of Bill Maher Show @ CBS
Saturday, May 19
Morning

Salvation Writers Room visit with Liz Kruger and Craig Shapiro @ CBS

Afternoon

Russell Williams @ "AU West"

Evening

Dinner and presentation with Andrew Greenberger @ "AU West"
Sunday, May 20
9—11 AM

James Middleton @ "AU West"

11 AM to Evening

Free Time
Monday, May 21
10 AM

Tour Universal Studios

1—4 PM

Darryl Frank @ Amblin Studios

Evening

Universal Theme Park
Tuesday, May 22
10 AM—NOON

Adam Goodman @ "AU West"

Afternoon

Studio tour with Mitch Nedick @ Warner Brothers

Evening

Dinner and tour with Mitch Nedick @ The CW Network

9—10 PM

Charlie Wachtel @ "AU West"
Wednesday, May 23
Morning

Depart L.A.
Speakers shared their experiences in making the transition from Washington to Los Angeles, as well as candid insights about the challenges and opportunities that the AU L.A. Intensive cohort will face as they seek to do the same.
"It was really wonderful because there was a lot of give and take, a lot of synergy," Danielle Claman Gelber said after chatting with the group for two hours. The AU alumna and president/founder of Acoustic Productions, who has developed a host of TV hits over her career such as the Chicago Fire/P.D./Med series, Weeds, The L Word, and Beverly Hills 90210, added, "I think I was able to impart things from my experience that could help new people starting out."
Throughout the week, the AU L.A. Intensive participants queried the speakers on numerous topics that reflected their expertise in film, television, entertainment media, public relations and more. "For me, it was the opportunity of a lifetime," said Barry Worthington, who earned his MFA from the Film & Media Arts division the weekend before the trip. "I'm still in awe over all our guests' and hosts' generosity and hospitality," he added.
Beyond the chance to engage face-to-face with key members of the industry, the trip also enabled the participants to meet with recent alumni at several social events, including a networking reception at the villa sponsored by AU's Entertainment Media Alumni Alliance.
"I was impressed with the group members as they honed their introductions and questions over the week and developed their networks with film and entertainment professionals who are at various stages in their careers," said Sarah Menke-Fish, SOC assistant professor and director the project. "The AU L.A. Intensive participants bonded as a group and moved from being competitive with one another to becoming supportive colleagues and formed a network of their own. As several of the speakers informed them, 'the relationships you build to support one another early on are invaluable for the length of your career.'"
SOC Dean Jeff Rutenbeck spent the trip engaged with the group's activities as well as meeting with numerous alumni. "AU L.A. Intensive touched many bases," he said. "Clearly, the students and recent alumni on the tour gained valuable insights—and some even landed interviews and jobs that will get them started. But just as important, in my opinion, was the fact that the visits gave the industry a glimpse of the talent coming out of SOC. We aim to build the Intensive project up, and in doing so we intend to bring more of that talent to a rapidly evolving industry."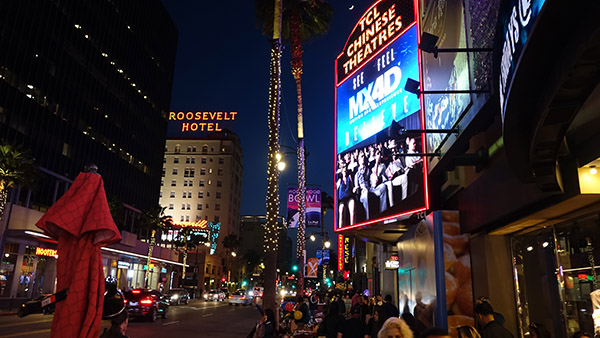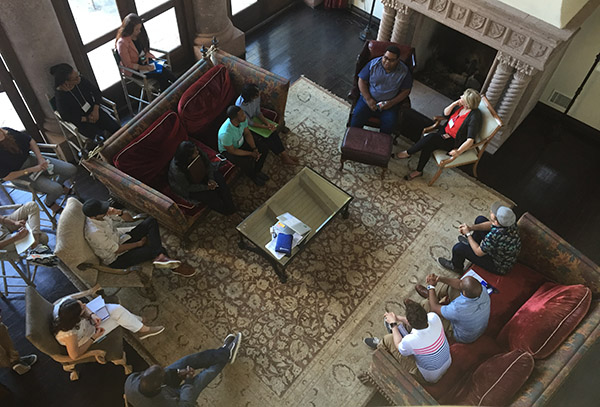 Darryl Frank
BA/SOC
Co-President, Amblin Television
Danielle Claman Gelber
MA/SIS-SOC
Owner and Founder, Acoustic Productions
Adam Goodman
Founder, Dichotomy
Andrew Greenberger
BA/SOC
Co-Founder, Journey Entertainment
Barry Josephson
BA/SPA
President, Josephson Entertainment
Eddie Leavy
BA/SOC 
Actor, A.P. Bio
James Middleton
BA/SOC
Executive Producer, Altered Carbon
Mitch Nedick
BA/SPA
Executive VP/CFO, The CW Network
Liz Kruger & Craig Shapiro
SOC Parents
Owners, Still Married Productions
Evan Spiliotopoulos
MA/SOC
Screenwriter
Charlie Wachtel
BA/SOC
Filmmaker
Russell Williams
BA/SOC
Distinguished Artist in Residence, SOC
Bonnie Winings
MA/SOC
Director of Development and Communications, Griffith Observatory