Communications
Behind the Scenes of 'Above the Shadows'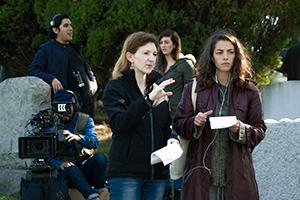 Associate Professor Claudia Myers' newest film, Above the Shadows, was inspired by her experience growing up. It's based on the concept that a young woman may feel invisible to the people around her, but that she will still find a way to function in the world.
Myers, who teaches film at American University School of Communication (AU SOC), says, "Invisibility didn't feel like a metaphor when I was growing up. It felt like a tangible state of existence. The script has a personal point of departure but the feeling of being misunderstood and overlooked is something that I think is familiar to a lot of us as we transition into adulthood."
Above the Shadows, which Myers wrote and directed, focuses on a young woman, played by Olivia Thirlby, who becomes invisible as a child after the death of her mother. Thirlby's character must learn how to navigate the world unseen and unheard. The story picks up when she meets the only man who can see her – a disgraced former MMA champion played by Alan Ritchson. Thirlby's character discovers that she had a role in his downfall and realizes that if she can restore him to his former glory, then maybe she, too, can be restored.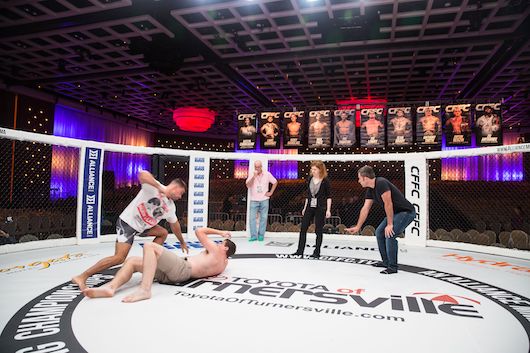 Shadows, a magic realist fairytale, is a dramatic change from Myers' 2014 film, Fort Bliss, which she also wrote and directed. Bliss is a realistic portrayal of a decorated United States Army medic who returns home from an extended tour in Afghanistan and struggles to rebuild her relationship with her son.
Myers says that the writing and directing stages of filmmaking are very different experiences for her. As a director, she asks completely different questions than as a writer, and she doesn't always have ready answers to them. She also must consider the arc of the characters and the logic of the storyline, which can sometimes make her revise the script in ways she had not anticipated when she was in the writing stage.
She and her team faced many challenges during production. "By definition, independent films have a very limited budget and have limited time. That meant that we had to be particularly resourceful with our set dressing, our costumes, and our lighting design to get the look and feel of a timeless fairytale/graphic-novel in New York City," said Myers.
One problem was figuring out the logistics of filming in 26 locations in only 21 days. They filmed in almost all five boroughs of New York City and it was difficult and expensive to coordinate moving the trucks and setting up the shots on busy streets. She also had to be creative in order to pull off big crowd scenes when they could only afford a limited number of extras.
Myers had choreographed a few fight scenes for Ritchson's MMA fighter. It was important to her that the fight scenes be executed in a way that seemed realistic in the context of the film. The team was able to partner with Alliance MMA, and on the first day of shooting they were able to film one of the fight scenes inside the cage during a televised MMA fight with a live audience.
Myers' hope is that the film speaks to people about a time in their lives when they felt that they were marginalized or overlooked and wants people to connect with the underlying message of the film: that in order to be seen, you have to see others.
"I hope people respond to the uniqueness of the story but that they still connect to it and find it engaging," said Myers.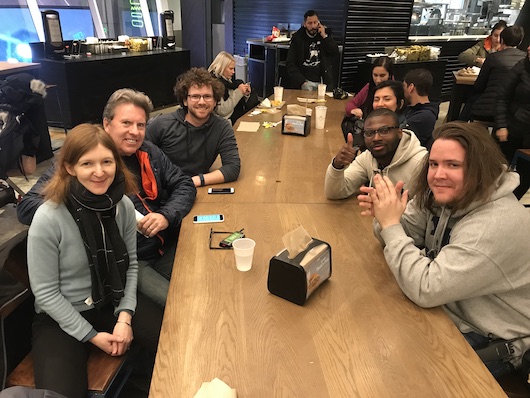 It was also important to Myers to include some AU SOC students in the creation of the film.
"One of the most enjoyable aspects of my job is integrating teaching with my professional and creative work. It's important for me to give students access to a real film set and show them all of the hard work that goes into filmmaking," said Myers.
Myers had multiple students and graduate assistants helping with pre-production and post-production of the film. She had one student who worked as a camera intern for half of the shoot, and she had a few students help with production during the shoot, and another student shadowed her for a day.
"Above the Shadows" will be released in select theaters and on demand on July 19.