Communications
Advanced Directing Students See Film Festival Success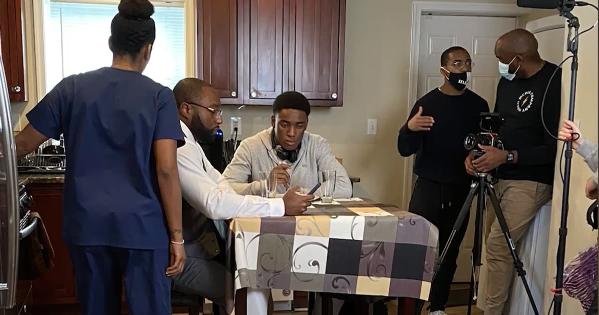 In Spring 2021, Associate Professor Claudia Myers introduced a new course at American University School of Communication (AU SOC). In "Advanced Directing," MA, MFA, and undergraduate students in the course developed their own films, and many saw remarkable success on the festival circuit. Students signed up for the course with a variety of goals in mind. Some had always dreamed of being a director, wanted to challenge themselves, others were looking to expand their understanding of what exactly being a director means. Students were encouraged to submit their finished films to festivals, and it paid off. Roughly 50% of the student films that were created in the class have been accepted into multiple film festivals and conferences. See full list below.
When it came to deciding what their films would focus on, both Ja'Von Hill and Trevor Edwards wanted to make films that told stories that reflected their own realities. Noah Pescara had a slightly different concept; he wanted to make a horror film that somehow represented his anxieties. Allie Duke, who graduated in May 2021 with her BA in Film and Media Arts, adapted a poem.
The class is very challenging, in part because it requires students to think about every single angle of the film.
"Directing has so many facets. I wanted to give students an overview of the whole directing process from story development, to pre-production where they refine their vision and come up with a visual design, production when the film is shot, and post-production when the film is shaped during the editing. So, the goal of the course was to direct a short film, from start to finish, in 14 weeks."
Edwards says that "A Producer's Handbook" by SOC professor Randall Blair is essential reading for anyone thinking about getting into film production. His own copy is bursting with post-its flagging key pages. "There was no way I was getting through Advanced Directing without reading this book," he said. 
 
Student Directors Break Barriers through Film Festival Accep
Advanced Directing students Ja'von Hill, Trevor Edwards, Allie Duke and Noah Pascara share their experiences in the class.
The class was held remotely, with COVID-19 safety protocols heavily influencing everything from where students could film to who they could work with and how to rehearse. Pescara, who ultimately won the SOC Visions Award for best graduate fiction film, was limited to using his mother's friend and girlfriend as actors and his parents' house as a set. "Constriction breeds imagination, so I really enjoyed it," said Pescara. Duke, who is now a PA on a television show for ABC, had particular concerns as her family were caring for her grandparents, so she did an outdoor shoot with her family as crew. Edwards made the decision to do all interviews and rehearsals via Zoom.
Hill and Edwards, who are now both third year MFA students and who have collaborated on projects together since the first year in the program. Hill said "bartering" skills with other students in the cohort is key to making things work, especially on a tight budget, "Hey, I can edit your film and you can shoot mine." She says she knew she wanted another student in the cohort, Alyssa Michener, to shoot the film from the get-go. "I have loved their work since the first class I had with them." Another advantage to this approach is that is helps build students' resumes.
All of the students gave the course rave reviews.
Pescara, also an MFA student, said "Claudia really shed light on the fact that being a director is much more personable than most people think. It's like learning a foreign language. You have to talk in action verbs. You can only communicate one thing at a time." "I wish I had more classes like this, and I wish I had taken them earlier," said Duke. "I was just doing everything wrong and getting ingenuine performances on camera which would have been much improved."
"I'm thrilled with the success of the students in the class," said Myers. "At the same time, given their level of commitment and their passion, I'm also not surprised."
Festival Success Stories
Trevor Edwards / "Sellout"
World Distribution Award – Award Winner
Niagara Falls International Short Film Festival – Finalist
Cult Movies International Film Festival – Finalist
Denton Black Film Festival - Finalist
 REAL TO REEL | Global Youth Film Festival – Semi Finalist
Black Bear Film Festival
San Antonio Black Film Festival
African American Film Marketplace and S.E. Manly Short Film Showcase
Afrobrix Festival
Lift-Off online sessions
V.i.Z. Film Fest
Ja'Von Hill / "Never Fall in Love with a Straight Girl"
Rome Prisma Film Awards
Rotterdam Independent Film Festival -- Nominee, Best LGBTQ Film
Louisiana Rainbow: LGBT + Film Festival - Honorable Mention
Denton Black Film Festival
Indianapolis LGBT Film Festival
Lift Off Online Sessions
Black Alphabet Film Festival 
Tag! Queer Shorts Festival
Festival RNAB
Atlanta Black Pride Film Festival
OMOVIES Film Festival
Noah Pescara / "The Sacrifice"
DC Student Flim Fest
UFVA
Emma Kamara /"Compromise" 
Heritage Film Festival 
Quarter Finalist in the National Short Film Festival 
Allie Duke / "Silence With You"
Night of Comedy Shorts Award Winner (Best Tragicomic Film & Best Actress)
Reale Film Festival - Award Winner (Best Comedy & Best Actress for July 2021)
YouFilmFest - Official Selection (Short Film Category)
National Short Film Festival - Quarter-Finalist so far, waiting for more updates (Local DMV Bracket)
Amin El Siwi / "Malik"
Clermont Ferrand Short Film Festival Market
Children Care International Film Festival 
Nicole Wackerly / "Virtual Memories"
Selection at UFVA Conference