Television & Film
Top Documentary Festival a Showcase for American University Faculty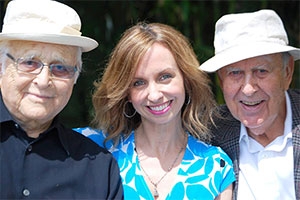 Faculty from across American University School of Communication (SOC) are well-integrated into this week's prestigious AFI DOCS film festival, hosted by the American Film Institute. One of the most important documentary film festivals in the world, it is the only venue connecting national policy makers to the documentary film industry and audiences on a global scale.

It's no surprise to find SOC leading discussions on hot-button issues such as racial diversity in media, the documentary film industry, and virtual reality during the Filmmaker Forum portion of the festival:

Thursday, June 25: Professor Angie Chuang will moderate a panel discussion about racial diversity in media.
Friday, June 26: SOC Executive-in-Residence Caty Borum Chattoo, executive director of the Participant Media Entertainment & Social Change Project at American University, will deliver a stand-alone presentation about gender and racial diversity in the documentary industry and content, based on the only two studies on this topic that exist, both of which were published by the Center for Media & Social Impact, an organization which Borum Chattoo co-directs.
Sunday, June 28: SOC professor Pat Aufderheide will moderate a cutting-edge panel discussion about the emergent powerhouse format in documentary storytelling, virtual reality.
As the festival's audience has grown, from 11,000 to 15,000 between 2014 and 2015 alone, it has also expanded its footprint from the AFI Silver Theater in Silver Spring and will hold the majority of 2016 screenings at the Newseum and the Landmark E Street Theater. Academy-Award winners and nominated directors open and close the festival with gala events at the Newseum. In an interview with Variety, festival director Michael Lumpkin promises the 2016 AFI DOCS will be more "diverse, in terms of the types of films, where they come from, and who's making them."
If you can't make it to the conference, SOC film MFA student Casey Freeman Howe has been invited by the industry's leading trade publication, Documentary magazine, to cover the filmmaker forum events.