Communications
School of Communication's Tara Flakker Receives Top Advising Award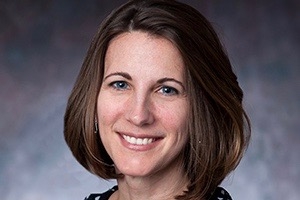 American University's Advisor of the Year Award for Excellence in Academic Advising for 2017 was awarded to AU School of Communication academic advisor Tara Flakker. Students cited her compassion, knowledge of academic policies and degree requirements, as well as the "judgement free" space she creates in her office as reasons why they nominated her for this award. Flakker has worked in undergraduate academic advising since she joined AU in January 2014. Before that, she was an academic advisor and college counselor in Pittsburgh.
SOC asked Flakker a few questions to find out more about the important relationship between an advisor and their student and her reasons for working in higher education.
Why did you choose to become an academic advisor?
I actually fell into academic advising from another field. I was working at a community mental health center in my late 20's, providing therapy to children and families, when I realized that I felt quite old for my age. I was young and self care was not a priority for me at that time. I was looking around for a new position which might provide more balance for me and stumbled across academic advising. I love this stage in human development and soon came to appreciate the field.
What is the best part about working at SOC?
I feel quite lucky to be working in SOC and with SOC students. They bring light and liveliness, vision and passion to the space that truly brings me joy every day. I work with passionate, creative and hard working people that share core values with me. I could not ask for a better fit.
What difficulties have you run into as an academic advisor?
I think the most difficult part is helping a student who is feeling great frustration with no immediate solution. Or, sometimes, no solution [at all]. Creating a space where a student can feel comfortable talking about the best of several "not so great" options is very important to me. One of the great things I learned from my training as a clinical social worker was cognitive behavioral therapy. Focusing on specific behavior, beliefs and patterns that can be altered for a different result. This translates well to advising and student development where student are continually challenged to alter ideas and behaviors that they may have carried for a long time. College presents a lot of newness. But it is also a season of new beginnings and opportunities.
When advising a student, what are some things you make sure to get across?
I almost always end my emails with "Take Care". This is not an accident. It took a long time for me personally to learn about self care and a work/life balance. I want my students to continually work toward that as they take classes and build their knowledge in an area of expertise. Similarly, one of the most difficult places to "sit" is in a space of not knowing. And so the second most important thing to get across is to keep asking questions. Never stop asking if something does not make sense. Policies and regulations that I must enforce should not be a barrier but a guide. Getting those rules across can sometimes be a challenge when my goal is to do so in a caring and non-judgmental way.
How often do you think a student should meet with their academic advisor?
I think this varies widely for students depending what they want to get out of the relationship. I have some students who see me regularly just to chat, check in or talk about those "big picture" ideas. Others come in once a semester just to go over course planning. Still others come in even less and are successful. I try to accommodate all of these students who have different needs. If more than a year passes and there has been no advising, it's probably a good idea to check in.
What should a student do to get the most out of their academic advising experience?
Every staff and faculty person at the university is here because they love working with students. I also really love working with students. The students who take the time to sit with me and talk about interests and goals, will have a different experience than a student who simply has me track progress with them. It is out of the broader conversations that I am able to share additional options that the student might be interested in, connect them with other students, offices or faculty which can enhance the time at AU and beyond. Students should come prepared for advising meetings. A little online investigation first will allow us to focus on how that applies to that student's specific situation. In SOC almost every student has a unique graduation planning situation. The joy of that flexibility is finding the best way to create culminating experience for learning. That is accomplished through relationship and conversation.