Communications
American University Pulitzer Center Fellow  Pitches at Tribeca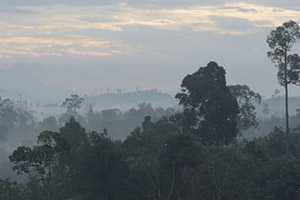 Kent Wagner, American University MFA film student, won a student fellowship grant from the Pulitzer Center on Crisis Reporting and AU School of Communication. It not only provided him a monetary award, but has helped him make valuable connections with photojournalists. Now it has also given him a chance to participate in a pitch competition during the 2017 Tribeca Film Festival.

Wagner is one of four students were chosen by the Pulitzer Center through a collaboration with The New York Times Op-Docs and Tribeca Film Institute. The Pulitzer Center will award the winning student project $10,000.
Wagner's film project, "Mist and Mystery: Borneo's Vanishing Landscape," which unfolds from the perspective of Borneo's indigenous people known as the Dayak, will focus on uncovering the exploitation of natural resources and will examine the effects it is having on wildlife habitat. "These folks have lived there for thousands of years and have relied on the forests for everything," he said. "Our film looks at the choices and consequences the Dayak people face as they watch the rainforests disappear."
"It is a huge honor, regardless of the outcome I feel very grateful that my project will be included in the pitches," Wagner said, "I was quite surprised to hear that my project would be included among the finalists." 
Chris Palmer, founder and director of the Center for Environmental Filmmaking, which has also supported the film, said that Wagner is one of SOC's top graduate filmmakers dedicated to learning, creative, hardworking, and determined to make films that have an impact.
"I can tell you that the Center is enormously pleased to be supporting Kent's film, both financially and creatively," Palmer said, "I'm very proud to be a part of Kent's film. It is a great honor."
Watch Wagner's film here: