Communications
AU Student Kaya Suner Creates COVID Connectors to Support His Community During the Pandemic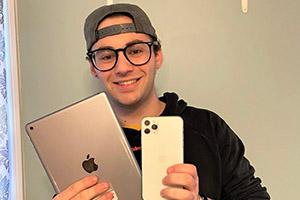 During the rapid and ongoing spread of the COVID-19 pandemic, first-year student Kaya Suner partnered with the Rhode Island Medical Society to co-create the COVID Connectors initiative; a nonprofit whose mission is to virtually connect sick patients with their loved ones by collecting gently-used iPhones and iPads.
Both of Suner's parents are both doctors on the front lines of the COVID-19 fight. When Suner called his mom, who works at Brigham and Women's Hospital at Patriot Place in Boston, offering to lend a helping hand by making masks, she told him about another great way he could make a difference. Due to visitor restrictions and social distancing, many patients could not see their loved ones in person, and some did not have the technology to do so virtually. 
Suner created a Facebook post to request donations for iPhones and iPads for COVID-19 patients to visit with their loved ones during such a difficult time. In a short period, Suner received a large number of responses and donations. 
"I reached out to my close friend Christopher Fridlington to build a website for COVID Connectors, and I partnered with the Rhode Island Medical Society to collect technology for Rhode Island hospitals," said Suner. Suner and Fridlington became the co-founders of COVID Connectors and were able to reach their donation goal of 650 devices within a week. 
Suner's advice to others who seek to start an organization on their own to and possibly support their communities is to "be relentless in terms of getting the word out there." The two were able to leverage free media coverage, which really helped boost donations."We had been featured on several local news channels and websites. The [Rhode Island] governor [Gina Raimondo] saw us, she gave us a shout out and then Amazon donated 540 devices, which is how we filled need in RI so quickly."
Suner recognized that the spread of COVID was ongoing and decided to continue COVID Connectors to help patients in other parts of the country. "We expanded into Massachusetts and New Hampshire. We're collecting devices for Catholic Medical Center in New Hampshire now. Going forward we're focusing on hard-hit hospitals in New York City."
Suner's motivation to support his community stems from being a Rhode Island native and the experience of having both his parents support patients while working in the ER. Kaya's father and emergency room physician, Dr. Selim Suner said, " Since he was little we knew he didn't want to be a doctor like us, but he found a way to contribute to this pandemic in his own way."