Communications
Building a Strategic Communications Plan for Marriott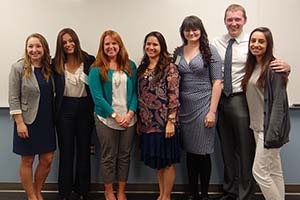 Each year Professor Pallavi Kumar gives the students in her PR Portfolio class the chance to develop a strategic communication plan for real clients, to solve real problems. This spring, she landed Marriott. "Having Marriott as a client for PR Portfolio was my ultimate dream after 10 years of teaching this class," said Kumar. Past clients have included Honest Tea and the Newseum.
The students were divided into four teams, and their challenge was to create a national conversation on what "extended stay" means to different audiences positioning Marriott TownePlace Suites as the leader in the next generation of lodging. They were asked to incorporate elements of paid, earned, shared and owned media into overall campaign strategy and tactics. The Marriott representatives were impressed by the students' work. Lindsey Pfrommer, Senior Manager, Consumer Public Relations for Marriott International. "TownePlace Suites by Marriott is a great brand with a fun, quirky personality, and the students far exceeded our expectations for ways to further promote the brand with PR strategy, direction and plans. They really knocked it out of the park!"
Perform PR, made up of students Ryan Venezia, Sarah Bishop, Kenya Alvarado, Kelsey Giordano and Jana Kleemeier, was the winning team (pictured above with the clients).
"We had a terrific experience, and the class developed strategic plans for four different target audiences: millennials, families, business travelers, and the military," said Kumar. "The class took the challenge very seriously and each team put in endless hours, sent countless texts and contributed to myriads of google docs to produce stellar strategic plans to enhance the TownePlace Suites brand."
"As an alum of SOC, I was excited to have the opportunity to work with this capstone class," said Nina Herrera-Davila, Senior Director, Consumer Public Relations, Marriot Signature Brands. "The talented students didn't let me down. Their creativity, enthusiasm and professionalism came through in spades. Not only were they capable of putting together a great PR proposal to meet their assignment objectives, but they also captured the heartbeat of the brand and offered up actual executable programs."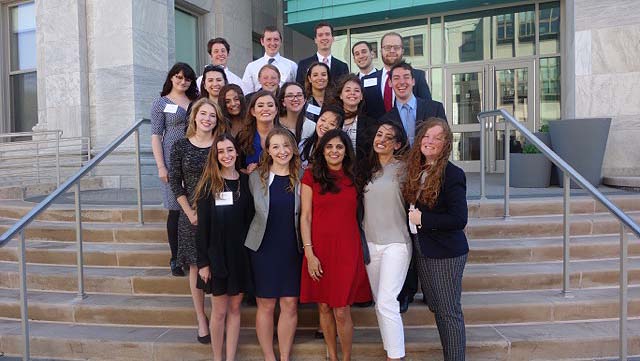 Kumar, front, in red, and the spring 2016 PR Portfolio class.