Communications
Center for Environmental Filmmaking Releases Media Impact Report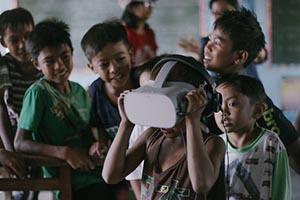 With an eye toward solutions for the future, AU's Center for Environmental Filmmaking (CEF) released its 2020 Impact Media Report at the 2020 Jackson Wild Summit to more than 900 key leaders in conservation science and storytelling.
"Impact Media Report: Creative, Collaborative & Outreach Strategies for Nature, Environmental and Science Films" explores innovative ways to use media as a tool for individual, societal, policy and cultural transformation. Funded by HHMI/Tangled Bank Studios, the report provides frameworks, case studies and examples of ways to create greater impact and meaningful change through equitable and representational best practices.
"Our new 2020 Impact Media Report deepens our understanding and furthers our thinking about how nature, environmental and conservation science media can change hearts, minds and behaviors," said CEF Executive Director Maggie Burnette Stogner. "We have unprecedented opportunities to engage audiences in the critical challenges facing our planet, from climate crises, pandemics, species extinction, to environmental injustice and racism."
The report also highlights the need to enhance diversity, equity and inclusion (DEI) approaches of filmmaking in the nature, environmental and science arena.
Stogner explained that "the norm has been for Western production companies to film in countries such as those in Africa, bringing in their own Western crews and featuring white experts. The film is then seen primarily by Western audiences, with profits going to the Western distributor. There is little, if any, benefit to the local African communities."
The report recommends replacing such extractive filmmaking practices with ones that build capacity in local communities. It illustrates ways to boost local filmmaking, amplify local voices and create innovative production and distribution trends. One such example is forming solar pop-up cinemas. Additionally, the report suggests creating DEI editorial boards to help promote change. The report also demonstrates that these DEI approaches create a stronger approach for impacting conservation issues by local community engagement.
"It really encompasses the new wave/approach to documentary filmmaking," said Katie Bryden, Visual Storytelling Team senior producer at Conservation International.
Also, while at the Jackson Wild Summit, Stogner interviewed finalists of their Impact Media Campaign Awards and was a panelist for the "Impact Action Coalition Forum," one of four key live events. CEF's Impact Report was featured in Jackson Wild Summit's most recent newsletter, which circulates globally to several thousand key stakeholders.
"I read your report and am thrilled that we can incorporate it into the Impact Campaign resources webpage moving forward … the Case Studies were great and you were a wonderful, insightful voice of data-driven clarity," said Jackson Wild Summit Executive Director Lisa Sanford. The Jackson Wild Summit is one of the largest and most prestigious gatherings of filmmakers, funders, distributors, scientists, and emerging media-makers.
The report will also be featured at the Nature, Environmental, Wildlife Filmmakers Congress in South Africa from Oct 25 – 30. In attendance will be filmmakers and scientists from across Africa and supported by key institutions such as HHMI/Tangled Bank Studios and National Geographic with a focus on building capacity among black and women filmmakers.
The Consortium of Universities for Global Health (CUGH) is also featuring the report in its newsletter to 30,000 members from 110 academic institutions in the US and 40 in countries around the world. "This report is much needed as we work to bridge the gap between the knowledge we possess and the policies we need," said CUGH Executive Director Dr. Keith Martin.