Communications
From the Navy to Comedy to Game Design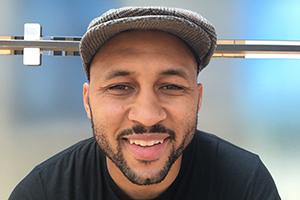 Che Rose has not followed your average career path. A Navy journalist who began doing stand up comedy, Rose then chose to get a Master's degree in game design. The perspective he's gained through his journey allows him to create uniquely authentic stories in his games.
Rose grew up in Houston, TX and graduated from the University of Houston with a Bachelor's degree in literature. After college and a stint as a night club general manager, he joined the Navy as a military journalist. His job was to tell the Navy's stories through video, radio, writing, and the web. He learned about photography and news writing and then went on to host his own radio show in Japan, where he was stationed. He would do a radio show in the morning and shoot local news stories at night.
He began to do stand up comedy while in the Navy to help improve his writing, comically and professionally. He felt like his writing was missing something because he couldn't nail comedy writing.
"It took me a while to feel comfortable because it takes a long time to understand the difference between what's funny in your head and amongst your friends and what's funny to people who expect you to be funny," said Rose.
After five years, he was looking for a new challenge, and decided to go back to school to learn about game design and development.
When he was an undergraduate, the game industry was still developing. Games, for the most part, were focused on immature concepts like shooting zombies or aliens and did not have a deeper meaning. Students could major in programming or coding or design, but not game design itself. But when he was leaving the Navy, there were many more options.
Rose says he chose the American University (AU) MA Game Design program because it was the only program where students could come out knowing how to create a game from start to finish by themselves.
For his capstone project, Rose wanted to create an urban video game that featured authentic black characters. According to the International Game Developers Association, only 3% of game developers are black, and the lack of diversity can create stereotypes and clichés due to unconscious biases. Ultimately, he developed a game about a group of old friends going on a road trip to Mardi Gras. He explained that road trips are a great way to show character arcs because as the story and the journey develop, the characters follow suit.
Rose is a storyteller so it was important to him to have a diverse lineup of characters that were real and not stereotyped or generalized. The characters in his game are based on real people and the voices of his characters are performed by people that Rose met while doing stand up. The comedians perform on a regular basis so they knew how to portray a character using only their voices. He made sure to interview each person to understand his or her mannerisms so he could create authentic characters.
He is currently revamping and polishing his capstone, and looking to apply to a major game studio.
Learn more about AU's MA in Game Design.