Communications
Class Makes Media for NBC
Professor Sarah Menke-Fish's Studio Television Production course gives students the opportunity to produce original webisodes for NBC4 and produce a live educational game show. From director, technical director, audio engineer to teleprompter operator, camera operator, floor manager, producer and master control, — students do it all and more in this hands-on course. Students rotate roles and the experience prepares them for entry level TV production positions.
Students also have to pitch their original short TV series concepts to NBC4-Washington for a shot at development by the class. After completing the TV Studio Production course, Menke-Fish wants students to leave with an understanding of the production process and industry experience.
This semester, students produced two shows for NBC 4, titled Walk This Way and Eco DC; and a live game show called Why Don't You Love Me?
Michelle Coker, a Film and Electronic Media MFA student said that the class is unique. She said she has, "never done anything like this before." The experience broadened her interest in TV production and helped her make valuable connections in the media industry.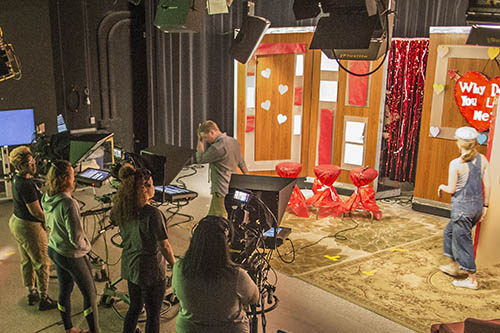 Studio Television Production students shoot an episode for NBC 4
Another MFA student, Kayeen Thomas, described the course as challenging and says, "the end result is always good." He thinks the course has been an "insightful" experience and he especially liked that he got the opportunity to show his non-films friends his work and what life as a film student is like.
Arshum Rouhanian, who is an undergraduate film and media arts major, says that beyond the skills, the course has given him a great opportunity to bond with his peers. "This is the closest I have ever felt with a class," he said. He also loves the hands-on experience of the course and is grateful for Professor Menke-Fish's helpful advice.
The TV Studio Production Class has been collaborating with NBC 4 every semester since 2009 to produce original content, including Metro Monsters in 2009, Flavortones in 2010, and Weather Hacks and Tourist Traps 2016.