Communications
What is the Role of Public Media in Civil Society?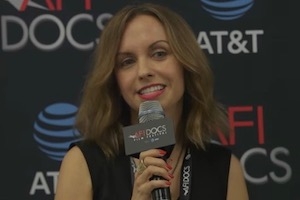 The American Film Institute (AFI) held its 15th annual AFI DOCS Forum this year to start off AFI DOCS' Festival Hub at the District Architecture Center in Washington, D.C.
The film festival includes sessions of exclusive networking events and presentations that explore and examine current industry topics.
Caty Borum Chattoo, director of the Center for Media & Social Impact at American University, moderated a plenary session that discussed the role of public media in communities nationwide, as well as the expanding roles of journalism and documentary film in encouraging civic engagement.
Excerpt from CMSI coverage on its blog:
Chattoo opened the forum by asking panelists to describe "how they are working to advance local and community engagement through public media." Naomi Starobin, General Manager of WHYY Radio, began by describing her project, Keystone Crossroads, and how it explores the urgent challenges pressing upon Pennsylvania's cities.
Starobin explained that their goal "was to go out into communities, hold events, talk to people and actually bring people together to discuss what's bothering them in their community and what could be done about it."
Emmalee Hackshaw, director of Community Engagement with Georgia Public Broadcasting, stated that they worked with sister stations to produce eight micro-documentaries of, "individuals and families across the state kind of representing all the different kinds of populations that we have in Georgia."
And lastly, Jefferi K. Lee, General Manager of WHUT TV, stated his station's approach is likened to a "little milk crate that we can put on the ground and let you stand up to rise above the noise sometime and you get to speak you don't necessarily have to be on stage all the time to get your voice heard."
Chattoo concluded the session by saying that the mission of the public media should be to raise issues that bring people together to have conversations with one another.
Watch the full panel discussion below: