Communications
CNN'S Abby Phillip Discusses Race and Representation in the Media at Joint SOC and KPU Event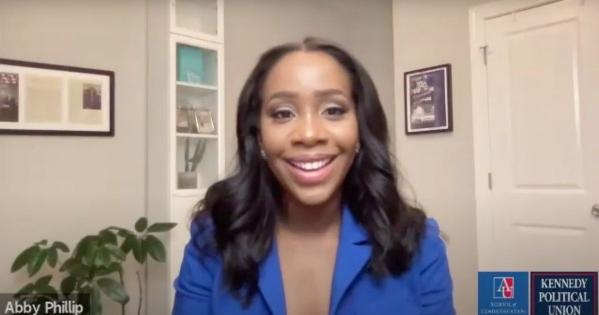 School of Communication (SOC) and The Kennedy Political Union (KPU) partnered to host a virtual event with CNN Senior Political Correspondent and Anchor of Inside Politics Sunday, Abby Phillip on Feb. 16. The event was moderated by Dr. Sherri Williams, Assistant Professor at SOC where her focus surrounds race, media and communication. The wide-ranging conversation surrounded journalism, political communication, race and representation in media, and was part of KPU and SOC's programming for Black History Month. 
Williams and Phillip began by discussing how the racial lens of journalism has changed in the last decade. "Things have changed for Black journalists," said Phillip. "There is a greater recognition of the value of Black voices in political journalism and on television, and a greater value of Black voices speaking up on these topics clearly and without having to sugarcoat things."  
The two speakers also emphasized the importance of representation in journalism, with Williams noting, "Having diverse voices included in newsrooms gets us closer to the truth." Phillip added, "When it comes to racial and cultural identity, you only understand it if that is your world. When we bring more of those things into the conversation, we are enriching the conversation." 
Phillip asserted that diverse representation is crucial at all levels of journalism, both on and off camera. "We are not doing a good enough job of supporting diverse talent, of putting them in the decision-making room," she said. "I think that is the frontier that we are still struggling to explore." 
In response to questions, Phillip also discussed how to overcome imposter syndrome, the importance of news outlets being held accountable for sharing inaccurate information, cultural identity, and how people of color can deal with the emotional fatigue that often comes from speaking about race and politics.  
Phillip closed by providing advice on how young, Black female journalists should navigate the workforce. She asserted that students should take initiative, and not hesitate to make themselves seen and heard in the newsroom. "You've got to speak up," said Phillip. "It's all about perseverance and persistence." 
"Everyone is trying to fake it until they make it," she mused. "That is actually how it's supposed to work. If you aren't putting yourself in a situation where you're a little bit uncomfortable, you probably aren't challenging yourself enough." 
Abby Phillip joined CNN in 2017, where she began covering the Trump Administration and served as the White House Correspondent through 2019. Phillip moderated CNN's Democratic Presidential Debate in Iowa in January 2020, and anchored special election night coverage surrounding the historic election of President Joe Biden and Vice President Kamala Harris. Prior to her time at CNN, Phillip has also served as a reporter for the Washington Post, a digital reporter for politics at ABC News, and a White House reporter and blogger for Politico.  
Sherri Williams, Assistant Professor at SOC, is the co-founder of Black on Campus, an award-winning investigative journalism reporting program for black college students, and her work has been featured in major publications including Self, Elle.com, NBC BLK, Ebony, Essence, Heart & Soul and Upscale magazines. Her work as a professor and researcher focuses on depictions of marginalized groups, especially women of color, in the media.  
Kennedy Political Union is the non-partisan, student-run speakers bureau at American University that has brought politically relevant speakers to speak about our nation's most pressing issues and engage in thought-provoking political dialogue for the past 50 years. 
Watch the full event, here:
KPU x SOC Present: Abby Phillip
The Kennedy Political Union (KPU) and The School of Communication (SOC) Invite CNN Political Correspondent and anchor of Inside Politics Sunday Abby Phillip to discuss covering the 2020 Election and The White House.