Communications
Community Voice Partners with Street Sense Media AU film students provide film and media training for Street Sense's filmmakers program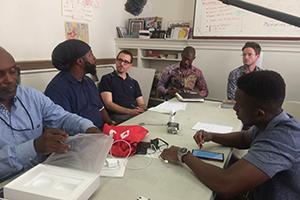 The Community Voice Lab's new partnership with Street Sense Media aims to connect AU's film community with the Street Sense filmmaker's co-op, with the goal of providing Street Sense artists and journalists with media training and resources. This partnership reflects the Lab's core mission to create collaborative storytelling endeavors that elevate community voices not often heard. Members of the Street Sense co-op are currently integrated into the production of Professor Hinson's documentary on tent city, serving as apprentices and shooting additional footage for the film. Others in the Street Sense community are serving as storytellers, allowing Professor Hinson and the CVL fellows to film their stories as they report on the issue of tent city. These participants become active participants in the production process, from conception to the film's completion.
Community Voice fellows are also providing mentoring and training for Street Sense artists interested in building filmmaking and photography skills, providing workshops on the basics of documentary filmmaking.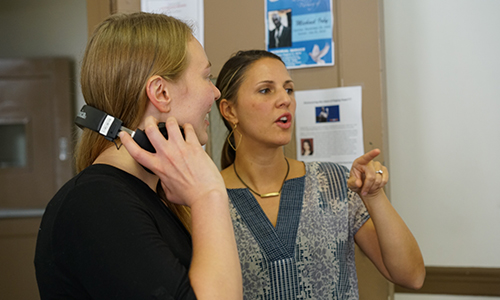 Community Voice Lab Director Laura Waters Hinson (right) and Fellow Grace Eggleston (left)
About Street Sense Media:
Our mission is to end homelessness in the Washington, D.C. area by empowering people in need with the skills, tools and confidence to succeed. Together we use a range of media platforms to raise awareness and spotlight solutions to homelessness in our community. Street Sense Media creates content in print, film, theater, photography, audio, illustration and more, all for the purpose of providing economic opportunity for and elevating the voices of people experiencing homelessness. The content of our media center aims to challenge perceptions of homelessness and those it affects while creating common ground upon which we can build a stronger community.