Anita Hill Talks Confirmation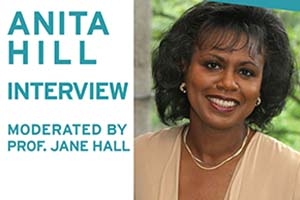 UPDATE: Anita Hill spoke at American University on April 7. For a recap of Hill's visit, check out Washington Post coverage or the #KPUHill Twitter feed.
Anita Hill, who played a major role in the events depicted in the much-anticipated HBO film Confirmation, is coming to American University (AU). Professor Jane Hall will interview Hill as part of the American Forum series, and screen clips from the film on April 7, at 8:15 pm in the Doyle Forman Theater at an event co-hosted by AU School of Communication and the Kennedy Political Union. Details
Confirmation is a film about the Clarence Thomas Supreme Court confirmation hearings. Thomas' nomination to the United States Supreme Court was called into question when his former colleague, Anita Hill, testified that he sexually harassed her.  The proceedings that followed had a lasting impact on the Supreme Court confirmation process and the role of women in politics.
Hill, portrayed by Scandal's Kerry Washington in the film, sparked nationwide discussion about sexual harassment in the workplace with her testimony against Thomas. 
Hill is an attorney and currently a Professor of Social Policy, Law, and Women's Studies at Brandeis University. 
Confirmation premieres April 16 on HBO.