Achievements
Students and Alumni Win at TIVA-DC Peer Awards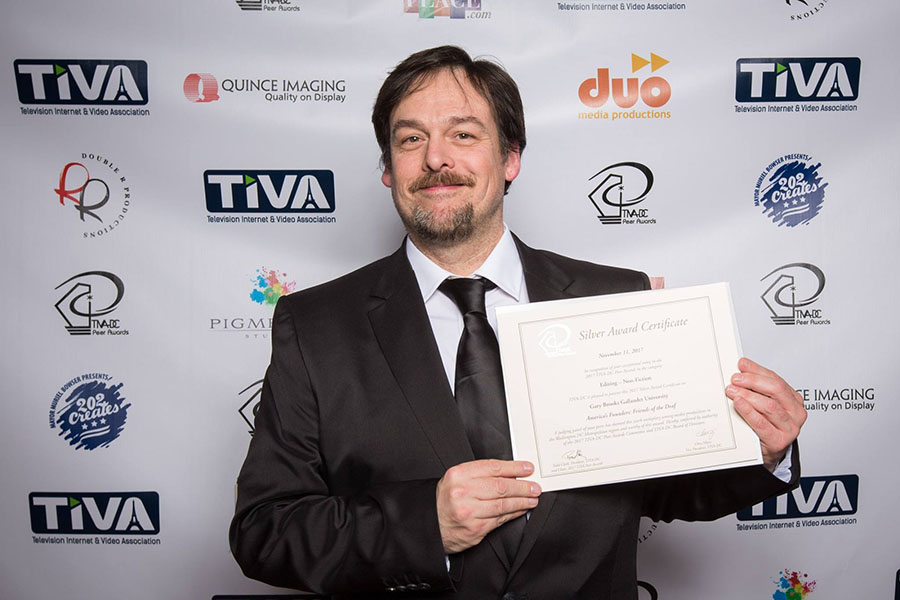 Current MA Producing for Film and Television student Gary Brooks won silver in the category Editing-Non Fiction Productions for the short film, "America's Founders: Friends of the Deaf," at the 2017 Television, Internet and Video Association of DC (TIVA-DC) Peer Awards.
The short film, "America's Founders: Friends of the Deaf," is a visual narrative of how Thomas Hopkins Gallaudet and others established schools in America to provide an education for deaf children. Check out the trailer below for more information.
Brooks' upcoming film, "Seeds of Hope: The Andrew Jackson Foster Story" will be releasing at the end of February. He is now preparing to film his next feature film, "The Legend of Veditz."
The awards are merit-based and are an acknowledgement and celebration of incredible work created by DMV professionals and nonprofessionals. All judges are volunteers and all entries are judged based on individual merits.
These SOC alumni were also recognized during the ceremony:
Alumni Matt Fredericks and Wes Hunt earned bronze in the category Education/Training for their video "Welcome to Janelia."
Alumnus Mike Pollak won gold in the Best Public Relations and Marketing category and was also nominated for Best of DC for their metrology program recruitment video.
Alumna Dawn Michelle Morgan won bronze in the category of Independent Short called "Emily's Braces."