Communications
Community Voice Project Joins Human Rights Film Series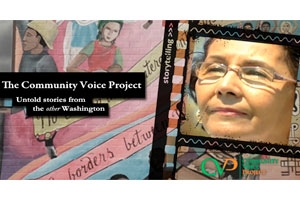 To the ear, the Community Voice Project seems to reveal itself in its name. But to the students, collaborators and those sharing their stories it is so much more. 
"All of my professional life I was interested in capturing the stories of those who have been dismissed on a larger social discourse," Creative Director Nina Shapiro-Perl shares.
"Teaching students how to do that work in the greater Washington, DC community [whether it's] housing the homeless, nutrition and health, or about major parts of life and the disparities, is of great value because then students are able to give it back to the community," said Shapiro-Perl. 
The Community Voice Project's partnership with the Center for Media & Social Impact has played a vital role in the Center's success. The Center was able to secure funding and opened its spectrum to a broader audience. Shapiro-Perl hopes that the two will continue to their efforts in social impact. The innovation, resources and passion of the students reflect what is at the heart of the Center's mission. 
On October 26, CVP will lead a screening and community discussion in the McKinley Building's Doyle/Forman theater as part of CMSI's Human Rights Film Series, a collaboration with the American University Washington College of Law. All the events in the series are free and open to the public.  
CVP is about carrying out the work, showing the struggle for equality or what people choose to reveal about their lives to film students. This is a mission that Shapiro-Perl has practiced in her whole career and continues to. 
She hopes to continue these efforts as well as bring more students into her courses, train the next generation and maybe even offer the resources to a larger audience. 
"In order to make an impact, we need to grow," Perl said. Shapiro-Perl will be back on December 7 with her community documentary students present their final projects, along with the community members they partnered with. 
For more videos like this on topics such as homelessness, education, health and poverty, check out the Community Voice Project.