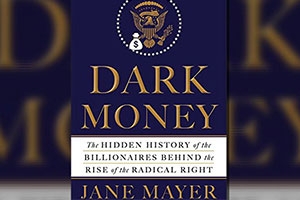 Investigative journalist and staff writer for The New Yorker Jane Mayer is paying a visit to American University's campus to discuss her book "Dark Money: The Hidden History of the Billionaires Behind the Rise of the Radical Right."  
AU School of Communication Professor and Executive Editor of the Investigative Reporting Workshop, Chuck Lewis, will interview Mayer about her recent book. "Dark Money" describes how the Koch brothers and other billionaires have leveraged their business empires to shape the political system Mayer is an award-winning journalist who has written about money in politics, government prosecution of whistleblowers, and the U.S. Predator drone program. 
The event will be held on Wednesday, February 17th at 6:30 pm in the Doyle/Forman Theater.