Communications
Dow Jones CEO Almar Latour Sees Growing Demand for Quality Journalism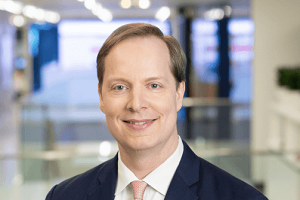 For Almar Latour, the new CEO of Dow Jones and Publisher of The Wall Street Journal, the mission of journalism is clearer than ever: to provide reliable information that helps people make good decisions. And, he says, demand for that kind of journalism is growing.  
Latour, who graduated with a master's degree from the School of Communication in 1996, has seen the industry change dramatically in the last two decades, from his earliest days reporting from Brussels to high-profile leadership positions at The Wall Street Journal and Barron's Group.  
As a leader whose decisions will inevitably shape the future of the industry, the Dow Jones CEO has perspective that few can match. When he looks at journalism today, much of what he sees is positive. 
Even before the Covid-19 crisis, Latour says, there was an increasing demand for good information, as people sought out data and analysis to help them understand rapid changes in areas such as technology, automation, and geopolitics.  
Now, with the current crisis, there is more uncertainty, and an even greater demand for trustworthy sources. "Everyone is wondering what the next 12 months will bring," he said. "We are seeing a massive spike in interest in business, finance, markets, government, but also personal lifestyle news."  
Latour sees many parallels between the current challenges and the last financial crisis, when he became managing editor for The Wall Street Journal. During the great recession, more people sought out news and information about business and finance. At the same time, the economic crisis accelerated changes that were already underway in the industry, forcing media companies to reinvent their business models. 
It was also a turning point for technology in media, and the perfect opportunity for Latour, who says he has "always been interested in building things." As managing editor, he led the transformation of The Wall Street Journal from a "newspaper on a monitor," into a truly interactive website with a new aesthetic, new products and features, and a completely different level of interaction.  
Latour anticipates that the current crisis will precipitate even more changes in the industry.  
In the companies he leads, changes are already underway. In addition to historic growth in new audiences, Dow Jones properties are experiencing more engagement from existing readers who rely on their products. And they are adding new ways to connect. For example, the Journal's virtual events, which allow people to interact with experts and guests, are now more frequent and have large audiences.  
Those additional touchpoints, he says, open a window into users' priorities and create opportunities to offer new products and features. He said, "At a time of great intensity, you see people's interests more clearly." 
As for journalists at Dow Jones and The Wall Street Journal, Latour believes this is their moment. Those journalists, who have spent years developing deep expertise in their fields, "have an opportunity and duty to help people navigate through this time," he said. 
Whatever changes the current crisis may bring, Latour emphasizes that the core journalistic mission remains the same: truth put to good use. However, he says, it is important to operate from a position of humility. It is not the role of journalists to tell their readers what to think, but to provide them with good information and allow them to make up their own minds.  
The successful journalist and business leader traces certain guiding principles back to his time at School of Communication.  
One of his core beliefs, says Latour, was formed from an experience at SOC that, surprisingly, began with failure. Like many students, his search for a summer internship was long and often disheartening. But he kept applying and, in the end, he accepted an opportunity with The Wall Street Journal that would launch his career.  
That experience, he says, reinforced that "It is normal and even required to face rejection and not give up." Likewise, you have to believe in your convictions. "Just because you are being told no, doesn't mean that the answer should be no." 
Stay true to your vision, he advises, and don't be too easily pushed in another direction. "When you are running a large brand or, in this case now a company, you've got to be open to new perspectives and aware of your shortcomings, but you also have to have conviction and direction," he said. "The interaction between the two is really important and ultimately leads you, hopefully, to make the right decision." 
A second formative experience came at the end of his studies, when he faced a choice: continue working in D.C., where he was happy and comfortable, or move to Brussels, where he'd have to start again, but would have more freedom as a reporter. 
Latour chose discomfort. And with it, more opportunities to learn and grow.  
It was not the first time that the journalist had stepped outside his comfort zone — his choice to leave Holland and study in the United States is another example — and it wouldn't be the last. This early experience in Brussels confirmed his second operating principle: it's important to constantly challenge yourself. 
That philosophy has guided him consistently to explore the latest frontier, whether in technology or geopolitics. When the countries of central Europe were in transition, he went there. When Asia began its rapid growth, he moved his family to Hong Kong. When he recognized digital media as the future, he dove in headfirst.  
Regardless of the challenge, Latour is thinking strategically, "I try to not be random about what I've learned," he said. "Those experiences are building blocks." 
He believes that embracing discomfort and change developed talents that have helped him succeed as a journalist and also in business, where it's important to see the larger picture, identify patterns, and be aware of underlying causes. 
"It can be quite humbling to start over," he said. "You need to take in a new landscape and admit that, even if there's a lot of familiarity, you have to be very aware of what you don't know."  
Latour has fond memories of SOC and the AU campus, enjoying the Davenport coffee lounge and cycling down Connecticut Avenue to his first internship. He says he appreciated the strong connection with Washington, D.C., and the balance it offered between classroom and real-life learning through internships. "I'm very grateful for my experience at AU," he said, "It was transformative for me."  
For students and graduates just setting out, the distinguished alum offers this career advice: only judge yourself on the results you achieve. "Ask yourself, 'Did it happen, yes or no?'" he said. "If not, be honest about it, figure out the reason, and try again."