Alumni
Emmy-Winning Reporter Arradondo (SOC/MA '11) Brings the News to Nashville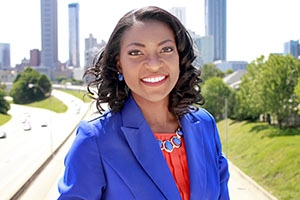 Briona Arradondo (SOC/MA '11) recently received a Midsouth regional Emmy for the Newscast/Morning category for her reporting about three school buses that were swept away during flooding in May 2017 in Tennessee.
She did not attend the awards ceremony and found out that she had won while she was at home.
"At first, I was in disbelief, then shock and awe since it was my first Emmy win," Arradondo said. "It didn't sink in until I went to work on Monday and saw the Emmy award sitting on my desk."
She said it was a symbol of the hard work and long hours that her team put in to deliver important information during the flooding.
"I'm very proud of the work we do at WSMV," she said.
Arradondo, who received her Master's in Journalism and Public Affairs at American University (AU), has been a reporter for WSMV-TV in Nashville since 2015 and currently does dayside shift reporting for the early evening newscasts and occasionally fills in on the anchor desk for their morning and noon newscasts. She previously did live shots for the station's morning newscasts.
Prior to working in Nashville, Arradondo worked in Chattanooga as a reporter for WTVC-TV. Among the stories that she worked on was the military attack at the recruiting office that killed five service members in July 2015. She also filled in on the anchor desk and produced for their morning, midday and evening newscasts.
She also worked in Steubenville, OH at WTOV-TV as a weekend anchor and reporter. She helped lead coverage for the Steubenville rape trial involving two high school students. During her time as a student at AU, Arradondo was an intern at Cox Media Group and interviewed Congress members and other high-ranking officials.
"There are many takeaways from my experiences during the AU graduate program, but the ability to write quickly, use good news judgment and manage my time are skills that I believed helped to prepare me the most for my jobs in TV news," she said. "While not everything can be taught in a classroom, my professors gave me a very strong foundation of what to expect so I could succeed in the workplace."