Communications
Employers Seek Candidates with Video Game Savvy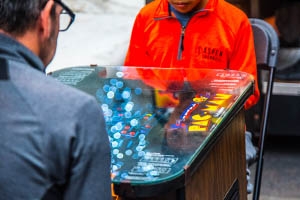 A recent Wall Street Journal article highlights the value video game expertise brings to your resume. It explains that across industries, hiring managers have taken note of skills that avid gamers and game designers bring to the table, including the abilty to independently problem-solve and to bring innovative solutions to stubborn problems. The article cites American University School of Communication Game Design MA alumnus Ryan Seymour as an example of an applicant who leveraged game design skills to land a position:
Ashley Deese, who manages digital media at the Smithsonian Institution's science-education center in Washington, D.C., said she appreciates programming know-how but also looks out for gamers' soft skills. "They tend to be problem solvers, organized and adaptable," she said.
One recent recruit, Ryan Seymour, came on board after earning a master's in game design from American University. The 34-year-old, who grew up playing the historical game "Civilization," had created a game while in school in which players manage a museum.
He included a description of it with his résumé.
"It was really incredible," Ms. Deese said. "We absolutely knew he needed to be part of this team."