Communications
From Coronavirus Response to Climate Change, For Frank Benenati Communication is Key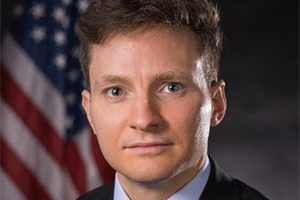 As the Covid-19 spreads around the world, communicators are playing an important role in protecting the public's health. As United Airlines' Managing Director of Communications, Frank Benenati has been on the front lines of the effort since the outbreak began. Airlines were among the first industries to be affected and to respond to the threat, and the School of Communication graduate has worked tirelessly to ensure that United's millions of customers have the information they need in these times of uncertainty and fear.  
With wide-ranging experience in public relations, Benenati was ready for this challenge. Since graduating from SOC, he has also worked as a congressional aide, served as a spokesperson in the White House, handled media relations on two tightly contested political campaigns, and managed communications for the Environmental Protection Agency.    
At United Airlines, his work is challenging and constantly changing. Whether he's describing United's response to Covid-19, or answering customers' concerns about the Boeing 737 Max, Benenati is responsible for ensuring that the media has correct, up-to-date information that matters to customers.     
Benenati notes that, in the digital era, problems are often captured in compelling visuals—fire shooting from the engine of an airplane in flight, for example—and broadcast in real time. And, since United is a large company that serves more than 150 million customers per year, the media is very interested when things go wrong.  
He said, "As a communicator you always have to be on top of it, to know the facts, to know what may be coming and how to respond."     
The job is not all crisis communication, however. In Benenati's current role, he spends much of his time thinking strategically about how to advance more positive messages, such as new routes or incentives for customers, or United's corporate responsibility projects. Promoting those important, but less thrilling, stories is a different challenge, one that requires excellent storytelling skills and the ability to secure good media coverage.  
Storytelling and making a compelling argument are two things that the media relations professional loves about his work. As a campaign spokesperson, he relished the opportunity to present the merits of political candidates and why they should be elected. In the White House, he tried to reach through the media to communicate with the American people, "telling stories to help them understand what the government is doing to better their lives."     
Benenati believes that working closely with the media is the best way to get those positive messages out, and he enjoys building relationships with the press. In his experience, journalists are dedicated to their field and to getting the story right. While they are often receptive to the messages he wants to convey, they are also committed to objective reporting.      
Through his high-profile positions in government and the private sector, Benenati has worked on many projects that make a positive difference in people's lives. But his efforts in the area of environmental stewardship stand out.   
At United Airlines, he feels fortunate to work for a company committed to taking a leadership role on environmental issues. United's pledge to halve emissions by 2050, its record use of sustainable fuels, and its investment in climate-friendly technology make it a leader in the industry. Benenati ensures those programs get the coverage they deserve.   
At the White House, too, Benenati worked on several critical environmental initiatives. One notable success was the Paris Climate Accord. In the year-long lead up to the Paris conference, he kept the media engaged and reporting accurately on the administration's environmental efforts, such as the Clean Power Plan and the 2015 deal with China to cap emissions. Good press coverage of those successes showed the world that the Obama administration was serious about fighting climate change. It bolstered negotiators' credibility, and it helped secure international support for the agreement.   
Reflecting on his "fun and unique career," Benenati says he probably wouldn't be where he is today without American University. AU's location in DC, and its ability to hire professors with real-world experience in their fields, is one reason. Both at SOC and in his government classes, he studied with professors who'd spent years working in the organizations and disciplines they taught, building practical skills and knowledge to share with students.   
 He also took full advantage of AU's many internship opportunities. By trying two very different internships—one at ABC News, the other in Congress—the broadcast journalism major was able to test his interests in a professional setting. Through those internships, he learned he was more interested in "the news-making side than the reporting."  
Testing both career paths while still in school provided Benenati with the knowledge he needed to make good decisions after graduation. The internships also helped jump start his career. After completing two consecutive semesters on Capitol Hill, he was well-positioned to compete for one of the few entry-level jobs in Congress.   
Benenati's experiences make made him an outspoken advocate for experiential learning. He encourages future students to choose a school in a city where they would want to work, and he urges current AU students to take advantage of every chance, offered by the school and in the city, to learn outside the classroom. Those opportunities, according to Benenati, are the first steps on the path to a long and fulfilling career.