Gallery Features Students' Photos for Black History Month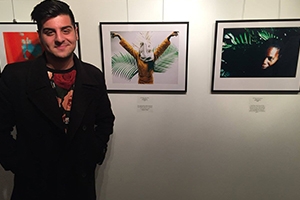 American University (AU) photography students teamed up with University of the District of Columbia (UDC) under the leadership of AU School of Communication Adjunct Professor Iwan Bagus to create an exhibition celebrating Black History Month at Studio Gallery. Bagus is head of the photography department at UDC and as a member of the Studio Gallery and donates his time to show in the gallery to photography students, giving them valuable professional exposure and experience.  
This year's display is called Black History Month: What a Time to be Alive. It focuses on the literary world of prolific Black authors and poets by taking a photographic journey using various forms of photo manipulation to celebrate Black History Month. 
The show opened February 5 and will run through February 26.  The 2015 Black History Month AU-UDC display theme was Harlem Renaissance and attracted over 400 visitors on opening night. See photos of the event on Facebook here.