Achievements
American University Game Design MA Makes Princeton Review's Top 25 for 2016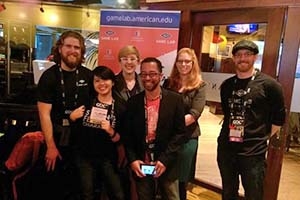 American University (AU) is one of the top schools to study video game design for 2016, according to new International Rankings from Princeton Review.

Poised to graduate its first students in May, AU's game design master's program is ranked 22nd in the world. The program is offered through a partnership between AU's School of Communication and the College of Arts and Sciences.
AU Game Lab faculty and students have earned the recognition.
For example, in the past year:
Game Lab collaborated with the Smithsonian American Art Museum on a pop-up arcade event attracting more than 11,000 visitors, making it the fourth largest event in its history.

Game Lab was the Washington D.C. site for Global Game Jam.

Three Game Lab students and Director Lindsay Grace presented findings from the JoLT initiative

in game design and disruptive media

leadership

on a panel at GDC,which drew over 24,000 people.

 

Faculty and students published more than 20 articles and participated in more than 35 talks, keynotes and panels around the world including GDC and Games for Change.    

Game Lab Studio signed large game contracts with NIMH, ETS and other partners.

The Princeton Review, one of the nation's best known educational services companies, partnered with PC Gamer magazine to produce the "Best Schools for Gaming 2016." The latest edition of the annual list is published in the March 29 issue of PC Gamer.
"For students aspiring to work in game design, the 58 schools that made one or both of our 2016 lists offer extraordinary opportunities to learn and to hone one's talents for a successful career in this burgeoning field," said Robert Franek, The Princeton Review's Senior VP-Publisher. To make its selections, The Princeton Review weighed more than 60 data points. Criteria focused on four areas: curriculum, facilities, technology, and career services.

AU's program is atypical in several ways. First, it is underpinned by a focus on persuasive play, which aims to employ the power of play to create socially responsible games that enrich people's lives.
Students who pursue the master's degree at AU develop skills beyond traditional game design and development by learning to tailor play design to meet specific goals in player impact. During the second year of the degree program, students intern at the AU Game Lab Studio and build a professional portfolio by working on real world projects for external clients.
AU's location in the nation's capital allows for unique partnerships and collaborations with cultural institutions and governmental agencies that have national impact.
The demographic makeup of the student cohort is also unique. Compared to an industry that is 89 percent male, the AU cohort includes five female and seven male students. Students come from across the United States, and Africa and South America.
The Studio is part of the AU Game Lab, which serves as a hub for professional education, persuasive play research, and practice. The Studio provides contract work for external clients in need of game development that will engage and influence around a campaign, a concept, or a brand.
The MA in Game Design was developed under AU's Persuasive Play initiative, which aims to employ the power of play to create socially responsible games that enrich people's lives. In persuasive play, game design is created in a way meant to transform players' interests, activities, or opinions into meaningful action. For example, in the field of K-12 education, persuasive play games are helping educators find more effective ways to engage with broader and more diverse students. AU's Persuasive Play Initiative is led by game designer and researcher Lindsay Grace who is also the director of the AU Game Lab.