Communications
Maximizing Professional Journalism Opportunities at American University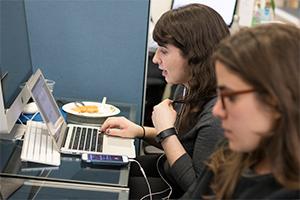 Marisa Iati came to American University School of Communication (AU SOC) looking for formal teaching and mentorship during the early stages of her blossoming journalistic career. She will leave AU with that, plus a graduate degree in journalism and public affairs and hands-on, intensive experience working at The Washington Post and SOC's Investigative Reporting Workshop.
At The Post, Iati estimates a total of 18 stories that she has worked on have been published. She is able to write for The Post thanks to the practicum that is offered through AU SOC in partnership with The Post. The practicum, which Iati said mirrors an internship, acts as a class that students can take for academic credit.
"The Post [practicum] has been such a great opportunity," Iati said. "I am getting published in the Washington Post, which is amazing, and I am getting to learn from really high-level people."
Her first big story for The Post covered Catholic college students' reactions to the sexual abuse crisis in the Catholic Church, she said. She was able to visit some local universities and talk to students about a difficult subject.
On the flipside, Iati went to a kitten lounge for a recent story that was "fun in a totally different, light-hearted way."
Iati's story about Catholic college students ran as the centerpiece of the Metro section that day in The Post, and she was ecstatic.
"It's kind of hard to believe that less than five years into my career and out of undergrad, I was able to have a story there," Iati said. "It also really motivated me to want to keep writing."
For Iati, the best part about being at The Post is the mentorship and guidance she receives from both the reporters and the editors.
"I feel like they are invested in helping me grow," Iati said.
IRW publishes in-depth stories about government and corporate accountability, ranging widely from the environment and health to national security and the economy. She said her favorite part about working at IRW is the collaboration. The work she does at the IRW is for bigger, more long-term projects that involve a lot of people, according to Iati.
"Often there are multiple people working on it at the same time, but it also can get transferred from one academic year to the next, so one group of students passes it on to the next group of students," Iati said.
Before AU, Iati was a local news reporter at the Star Ledger and NJ.com in New Jersey, the print and online sides of one publication, covering crime, courts, government and more. She said coming to AU from a newspaper helped her adjust to the pace of journalism in D.C., and she eventually learned how to balance her workload so that she was getting the most out of the experience.
She was particularly attracted to AU for its partnership with The Post and the opportunity for students to work there throughout the year. Iati also said Professor Lynne Perri, who teaches her News Design class and is the managing editor of the IRW, has helped her not only with individual skills but also with her overall goals and figuring out how to achieve them.
Iati will finish the grad program in late June and said she would like to stay in D.C. working as a reporter at one of the local publications. She said like many things, what you get out of a journalism program is what you put into it.
"If you choose to do the bare minimum, you're not going to get as much out of it as if you kind of throw yourself at opportunities and ask for the opportunities that you want and seek out the people who you think could mentor you and help you," Iati said.