Communications
Groundbreaking Investigative Journalist Charles Lewis to Retire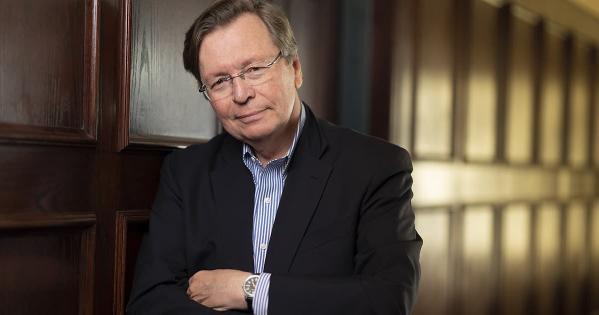 Professor Charles Lewis, 2021 winner of the Institute for Nonprofit News Lifetime Achievement Award, has a passion for uncovering truth and delivering it to the public. In December 2022, after 16 years at American University School of Communication (AU SOC), he will retire as professor and Executive Editor of IRW. He leaves a legacy of mentorship, scholarship, and an award-winning, thriving, independent investigative newsroom.
"Chuck is one of a kind. He's an investigative journalist, scholar, teacher and leader. But what truly makes him special is that he has excelled at each of those over a career that spans a generation of innovation in every aspect of his professional life. As he retires, all of us at SOC are exceedingly fortunate to call him one of our own," said SOC Dean Sam Fulwood III.
When the former ABC News and CBS News "60 Minutes" producer joined SOC in 2006 as Distinguished Journalist in Residence, he had already founded two Pulitzer Prize-winning nonprofit news organizations, the Center for Public Integrity and the International Consortium of Investigative Journalists and had been awarded a MacArthur Fellowship and the PEN USA First Amendment Award (2004).
Lewis had been exploring new economic models to create and deliver investigative journalism prior to joining SOC, and in 2008 he partnered with fellow SOC professor Wendell Cochran to launch the Investigative Reporting Workshop (IRW). IRW's goal is to hold the powerful accountable through original, data-driven investigative reporting produced by experienced journalists working with the next generation of reporters. IRW has partnerships with other newsrooms, including "The Washington Post."
"Chuck created a model for wedding the talents of experienced reporters with young people hungry to learn how to do investigations. His insights and the partnerships we've developed have given many young people opportunities they would not have had otherwise," said Lynne Perri, IRW managing editor and SOC professor.
IRW has also developed free resources including The Accountability Project (TAP) that shares public data with other newsrooms and the public in a way that's equitable and credible. TAP currently has more than 1.5 billion records available for use by journalists, researchers, public-interest groups and concerned citizens to identify patterns and draw connections between people and organizations.
"Chuck's work is groundbreaking, globally recognized and life-changing for so many journalists," said Journalism Division Director Amy Eisman. "His efforts reflect the history of the birth, growth and success of modern nonprofit investigative journalism."
Named as "one of the most notable investigative reporters in the U.S. since World War I" by the Encyclopedia of Journalism (2009), Lewis taught "In-Depth Journalism" and "International Investigative Reporting throughout his teaching career, giving students the opportunity to study under a globally recognized investigative journalist. And he worked alongside and mentored hundreds of students who worked on investigative projects at IRW. In 2018, Lewis was awarded the I.F. Stone Medal for Journalistic Independence.
Some alumni, now working at other media outlets, ultimately became IRW partners on investigative projects. Alum nus Patrick Madden worked with IRW when he was a reporter at WAMU 88.5, AU's NPR station, on "Collateral Damage" focusing on the DC police department's aggressive focus on confiscating illegal guns and then partnered on an  investigation about groundwater shortages in Louisiana as regional news director for WWNO 89.9 New Orleans Public Radio and WRKF in Baton Rouge.
"It's impossible to overstate the impact Chuck has had on investigative journalism," said Madden. "His work in the field of accountability journalism -- as a producer, reporter, author and editor -- has undoubtedly improved the lives of countless people. And equally important, Chuck has been a generous mentor and friend to so many in the journalism industry.
Despite all his accolades and achievements, colleagues say he is collegial, collaborative and humble. "There's more to Chuck - his delightful sense of humor, kindness, curiosity, courage, commitment, passion for ferreting out the bad guys AND for baseball, and perhaps most of all, how deeply he cares for others. His legacy will be a guiding light for years to come," said SOC film professor Maggie Stogner, who leads SOC's Center for Environmental Filmmaking.
Lewis will stay on as Emeritus Executive Editor and IRW Senior Editor, SOC professor and Washington Post Investigative Reporter John Sullivan will serve as interim executive editor.