Achievements
Dotty Lynch Scholarship Goes to Salazar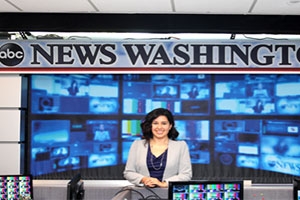 American University School of Communication Professor Dotty Lynch, a journalist and pollster who infused students with a love of politics and the political process, passed away in 2014.

To honor her memory, Lynch's husband, Morgan Downey, along with a group of her many friends and colleagues established the Dotty Lynch Endowed Scholarship Fund.
This fall, the first Dotty Lynch scholarship was awarded to Adrienne Salazar, an outstanding graduate student who exemplifies Lynch's passion for politics, journalism, and ethics, while embracing her commitment to excellence in the field. Salazar says receiving the scholarship is an honor.

American University Experience:
The highlight of my first semester at AU has been meeting all of my stellar professors, whose careers I continue to be inspired by. I feel as though I am right at home in their company and guidance, and it is such an honor to be able to learn from them.
Favorite Spot on Campus:
My favorite spot on campus is the Eric Friedheim Quadrangle. There's nothing like the feeling that I get from standing in the middle of it, looking around to take in the gorgeous scenery, and knowing that everything I've been through in life has brought me to this amazing juncture.
Employment/Internships:
My first semester at AU has coincided with my first-ever broadcast news internship at ABC News for Senior National and White House Correspondent Jim Avila.
Awards, Honors, and Distinctions:

National Excellence in Media Award: June 2015
First place in the Washington Media Scholar Foundation's nationwide Media Plan Case Competition.
Extra-Curricular Activities/Interests:
My three biggest interests are film, fashion, and politics. My hobbies include photography and theatre.
Hometown: Bakersfield, CA
Major: Political Communication
LinkedIn: www.linkedin.com/in/adriennesalazar
If you would like to make a gift to honor Professor Lynch's memory and support a deserving student, please visit: http://alumniassociation.american.edu/dottylynch.