Communications
Influencers? The Rise of a New Communications Career Path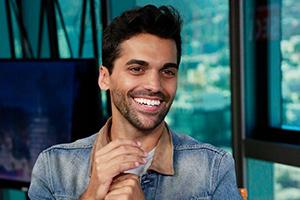 Luke Miani started uploading content to YouTube when he was in middle school, using legos and stop-motion in his basement. Now his technology review videos receive hundreds of thousands of views with paying sponsors. Miani is just one among many School of Communication students and alumni who have become viral internet celebrities by using their communication skills to succeed as social media influencers. 
In 2020, more and more people are giving up the traditional career route and making a living from social media, according to researchers at NPR. The modern-day influencer doesn't have one sort of look either. These internet stars and entrepreneurs create a range of content, from toy promotion videos to vlogs documenting daily life, that can be found all over the internet.
YouTuber and SOC alumnus Andy Lalwani was inspired as a teenager by other YouTube stars with similar interests. Now, at almost 10K subscribers — some of his videos reaching up to 279K views — Lalwani has become close friends with those who inspired him to start in the first place. He brings a unique, personable element to his comedic videos that attracts viewers and has allowed him to do what he loves.
"I never imagined that would happen" he said. "There's a lot of jobs and opportunities I never thought I'd have." 
Although the young internet personality didn't initially envision this sort of success, he still worked diligently to get himself to where he is now. He is working and living in Los Angeles as an online host and executive producer. 
He reflects back to his days at American University as a student involved in extracurricular activities like American Television (ATV), which provided him networks and skills that he still uses today. 
"It started out with friends that were so willing to help me out at AU," said Lalwani. "I now host for a company called WhatsTrending.com and it's making YouTube videos, but it's just like I'm back at ATV making a news report. It's so wild that I make money off of doing that now." 
Luke Miani, an undergraduate public relations major, is seeing success, too, as a popular YouTuber. Miani has created content for a decade now and says he "just tried things out" until eventually moving on to create videos about technology and computers. These tech repair videos eventually gained the college student 133K subscribers. 
Miani mentions that the majority of his YouTube channel growth happened while studying at AU because he took advantage of the "mutually beneficial" relationship between his coursework and his video experience. In fact, he advises current students who are interested in becoming social media influencers to create content early, while in college, to benefit from their relationship between classes and real-world experience. 
"Start while you're here because I definitely think it would be a lot more stressful to try and build a career as an influencer later," he said. "You've got a major that you're working on, internships, and school to help you." 
Budding influencer Paige Kaiser, who is also a public relations student, is taking advantage of those opportunities. While Kaiser is only in her first year, she anticipates that her studies will help her improve her skills. 
"Classes like Visual Literacy have been helpful for me and I'm looking forward to how classes in the future will help more," she says. 
Television personality, sports journalist, and American University alumna Rachel DeMita agrees. She also advises students to get as involved as she did with internships and her network of professors.
"Learn as much as you can whil' you're still in school because people are more willing to help students," she encouraged. "This is the time that you can explore all of your interests and find your talents and the things that truly fulfill you."
DeMita has gone on to host the NBA's 2K show and interview some of the biggest names in sports like Kevin Durant, Kelly Oubre Jr., Doris Burke, and more. 
She knew from an early age that she wanted "to make an impact on the world and have a lasting career in production." Amidst her many hobbies like theatre arts and basketball, the influencer honed in on her aspiring entertainment career when she transferred to AU in 2009. DeMita studied broadcast journalism and performing arts, where she learned many critical skills such as editing, shooting her own videos, writing scripts, and most importantly, finding her voice for hosting. 
"There are so many different ways to define success," said the host. She didn't become a notable content creator with more than 1.2M Instagram followers, 295.1K Twitter followers, and 253K YouTube subscribers overnight. By working hard and creating her own social media content, DeMita persisted in the field to get where she is today. 
"When I moved to L.A., I didn't have much money at all," the journalist said. She worked as a waitress for nine months before being hired as a full-time digital host and model. 
"I'll never forget what one of my not-so-nice coworkers at the restaurant told me on my last day," DeMita recalled. "She said, 'I'm sure you'll be back working here soon.' That was all the motivation I needed. Thankfully, I never had to go back."
She cautions aspiring influencers to be cognizant of the dangers of social media and not compare themselves to others. "With how quickly technology, social media, and the whole digital world is changing, you have to be ready to adapt," she said. "If you stay true to yourself, never stop learning, and work hard, I have no doubt you'll find success."