Communications
Alumna Powers Communications for International School in DC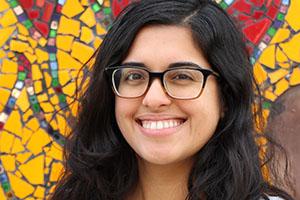 Carlos Rosario International Public School is unique in that it offers adults English as a second language courses, counseling services, GED programs in Spanish and English, career training and much more. Erica Sanchez Vasquez has worked there since earning her MA at American University in 2013, first as a communications assistant and now as communications specialist.
"The department was only a year old [when I started]," Sanchez Vasquez said.
At the time, all of the school's communication systems were still being created, so she started by helping with the development of those systems. But Sanchez Vasquez said some of her main job duties then and now are the same: tackling media strategy, media relations, and storytelling.
Sanchez Vasquez said her supervisor recently left, so she has been taking on more responsibility at the school.
"We're in a period of transition right now, but I'm looking forward to it," she said.
Sanchez Vasquez said the two-year MA in International Media program, offered in partnership through AU  School of Communication and AU School of International Service, equipped her with the skills to be able to do the majority of her current job.
"I work in an international school, and there are people here from all over," she said. "I learned a lot of the intercultural relations, building relationships with the students, how I would interview, that sort of thing."
She also said she got a lot of practice writing in English while at AU, something she had not done before because most of her writing had been in Spanish.
Sanchez Vasquez graduated from the University of Puerto Rico with a bachelor's in journalism in 2011. While there, she was working at the University's newspaper as a reporter.
She started looking for graduate programs that combined her interest in international affairs, culture, and communications. She said the International Media program was "perfect" because it incorporated everything she was passionate about.
"The integration between the two schools was a great fit for me," Sanchez Vasquez said.
Sanchez Vasquez said one of her favorite classes at SOC was Backpack Reporting, which was taught by Professor Rob Roberts at the time. She said the SIS side was more focused on international communication.
"We did intercultural communication, a lot of international development classes. One of my areas of interest was environmental studies and sustainability, so I was able to take some of those classes too," she said.
Sanchez Vasquez said a strength of the International Media program was that students were able to take classes from all of the different branches of communication, like strategic communications, journalism, and public relations.
Sanchez Vasquez was also a Dean's intern at the public media newspaper, Current, for 10 months. She said it was initially supposed to be a semester-long internship, but it was extended.
"I was able to put an international angle on [coverage], so they gave me a lot of liberty to tell stories that I was interested in," Sanchez Vasquez said.