Communications
Covering Politics and Culture in Afghanistan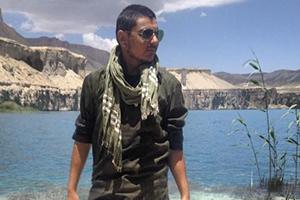 Ali Latifi, SOC/MA '11, currently works as a freelance journalist in Afghanistan covering political and cultural issues for outlets including CNN, the LA Times and the New York Times.
The New York Times story he is most famous for is about Afghan refugees in Iran being sent to fight Syrian armed forces.
"I had just come back to Afghanistan after an unsuccessful attempt at working in Turkey, and this was a story I had wanted to work on for a while," Latifi said.
Latifi said freelancing in Afghanistan can be difficult, but a person must keep trying.
"That means being willing to write for smaller outlets at times," Latifi said. "That also means trying to branch out."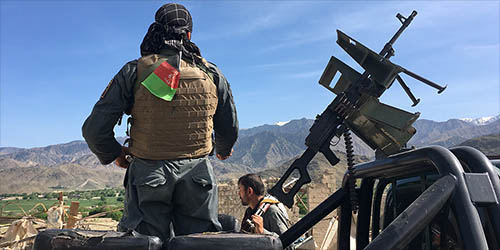 An Afghan soldier stands guard in Achin district of the eastern province of Nangarhar two days after the United States dropped the so-called "mother of all bombs" on a village in the district.
Latifi said in the last year, he started doing live-video reports for CNN and other international media outlets. He said it was difficult at first because he was never trained in video journalism, but he learned by doing it.
Latifi also started doing radio interviews for stations in San Francisco, D.C., New York, South Africa, and Canada.
"It's a good way to test your ability to analyze the stories you cover and figure out how to convey them to people on the other side of the world in a very short amount of time," Latifi said. "Again, it's something that you learn as you do it."
Latifi said he applied to American University School of Communication's International Media MA program because it was the only one of its kind that he had come across.
"It seemed perfect," Latifi said. "They were about real-world practical experience and setting you up to actually being able to work in the field."
During his time at AU, Latifi began freelancing. He also interned with the Kojo Nnamdi Show on the local NPR affiliate, Voice of America's Afghan service, and Al Jazeera's D.C. bureau.
Almost immediately after graduating from AU, Latifi received an email from Al Jazeera English to start working in Doha, Qatar. Latifi applied for a job there after interning in their D.C. bureau. A couple of weeks later, Latifi was at the airport and on his way.

Overlooking the Harirod River in the central province of Ghor.
"There was a definite learning curve there, and the media can be a cutthroat business," Latifi said. "After a few difficult months, I decided that no matter what people may have thought of me on the inside, I would put in the work and prove to them I belonged there."
During this time, Latifi began writing and researching his own stories and developing a network of sources. Latifi said that is when he decided to take ownership of the Afghanistan story for AJE.
While working for the LA Times, Latifi traveled across Afghanistan reporting on issues ranging from marriage costs to the 2014 presidential elections to a reality singing competition. During this time, he published the first ever interview with Rula Ghani, the current First Lady of Afghanistan.